Crunchy, flaky and delicious – these lamb cigar rolls are so flavourful and easy to make ahead snack for the whole family.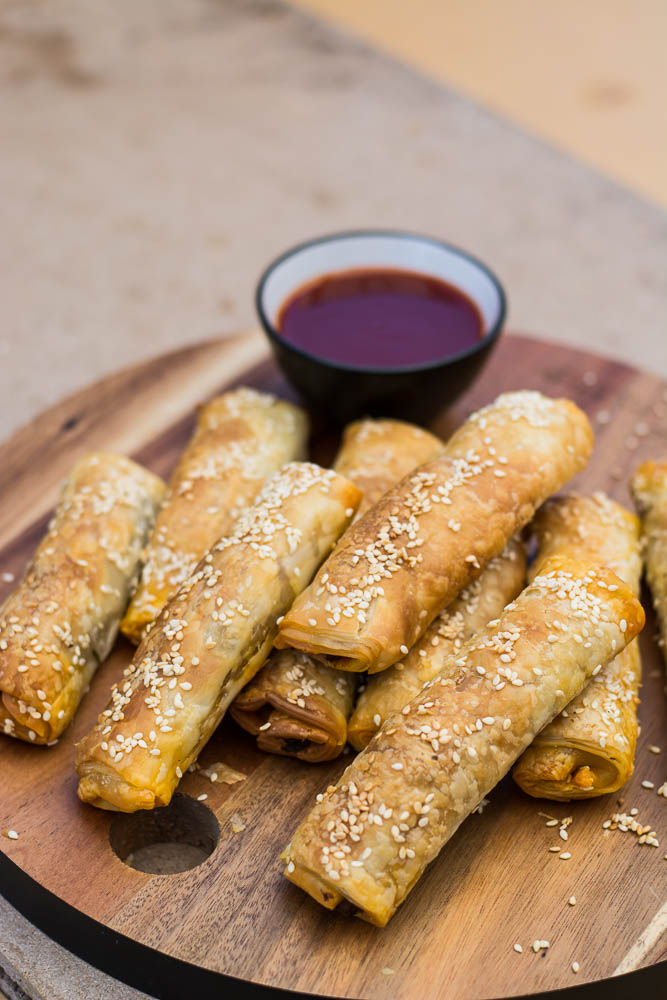 "I have a son, who is my heart.
A wonderful young boy, daring and loving
Strong and kind."
-Maya Angelou

Today our little munchkin turns 9. And our hearts are filled with so much joy and happiness…..

Adi is a happy child, a genuine kind soul who finds happiness in humor, music and bear hugs. And as much as we would like to take credit for his upbringing, the truth is that it is not us. His kindness and generosity comes from within him and we are really blessed to have him in our lives.

And just as every other parent, we wish him good health and a joyful heart always.

All of us call Adi the 'gourmet' boy. His love for oysters is legendary; yes he can down a dozen of the raw ones which always get us attention at any restaurant we go to. But he is equally at home with traditional South Indian food especially dosas and this tomato egg chutney which is the ultimate combo for him. In fact that's exactly what I will be making for his birthday dinner!

Lately he has also taken fancy to homemade snacks, especially the savoury ones. These days, he comes home ravenous from school. The growth spurts are real and that means I am always hunting for interesting recipes for quick after school snacks, especially ones that can be made in bulk and frozen to alternate through the week.

The Lamb Cigar Rolls fit the bill perfectly.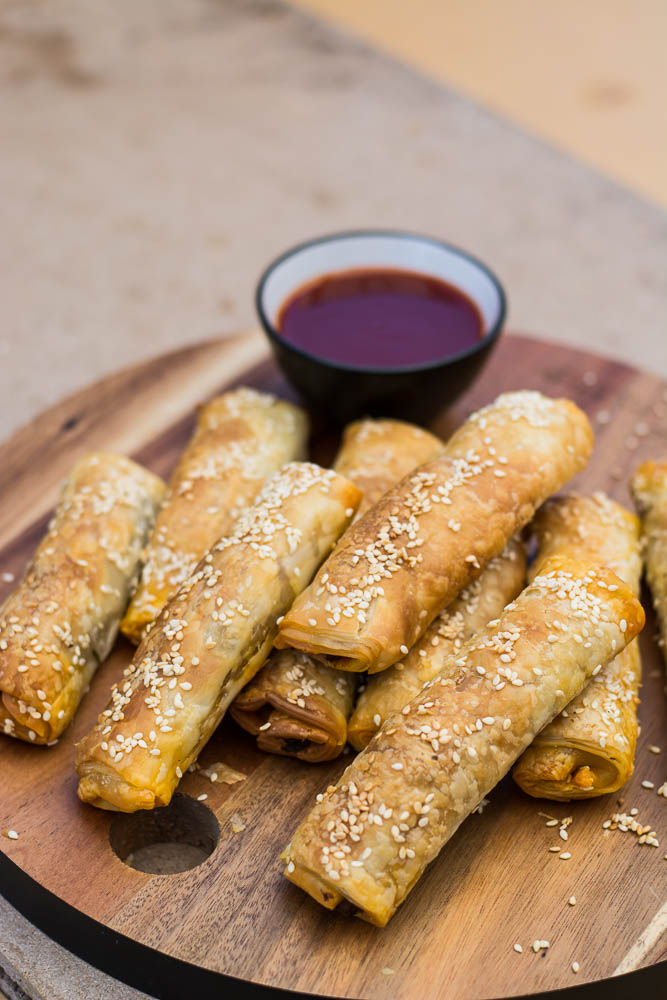 Frozen puff pastry sheets are a real blessing; and I always have some stocked in the freezer. Which means that I just need to make a filling for a quick, healthy and delicious snack. These lamb cigar rolls were inspired by the paneer rolls I made last year for Adi's birthday; it was hands down the best loved starter of the party.

The filling for these lamb cigar rolls is really simple; lamb mince spiced with cumin, dried mint, paprika and turmeric with chopped onion, garlic and ginger through it. A few spices and aromatics can work wonders with lamb and the flavour of the meat really shines through. A handful of chopped raisins too for that intermittent sweet burst of flavour.

If you are fond of puff pastry snacks, then here's another delicious one using kangaroo mince.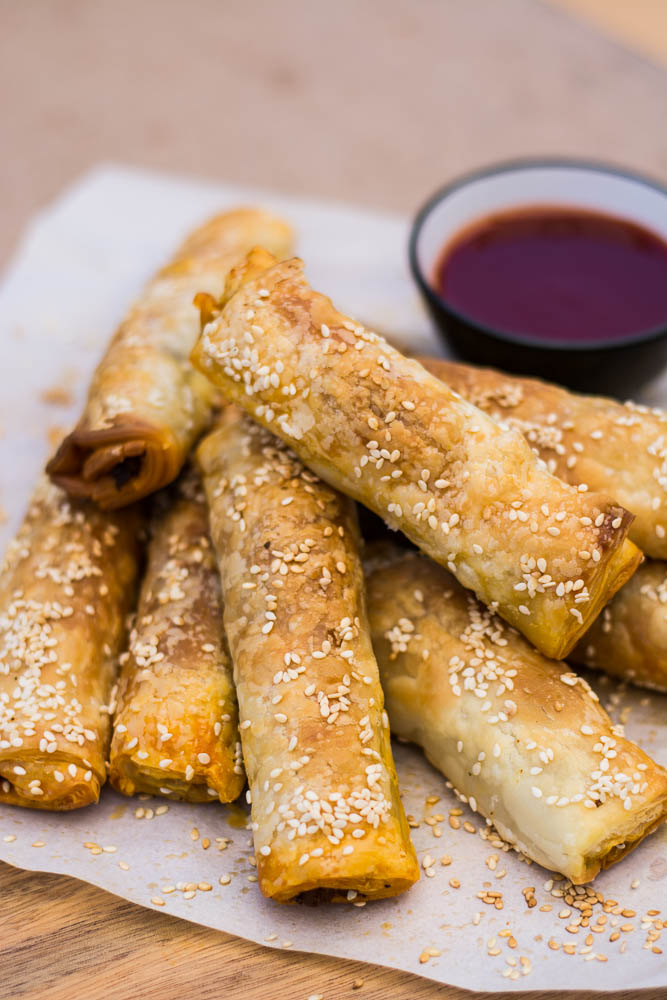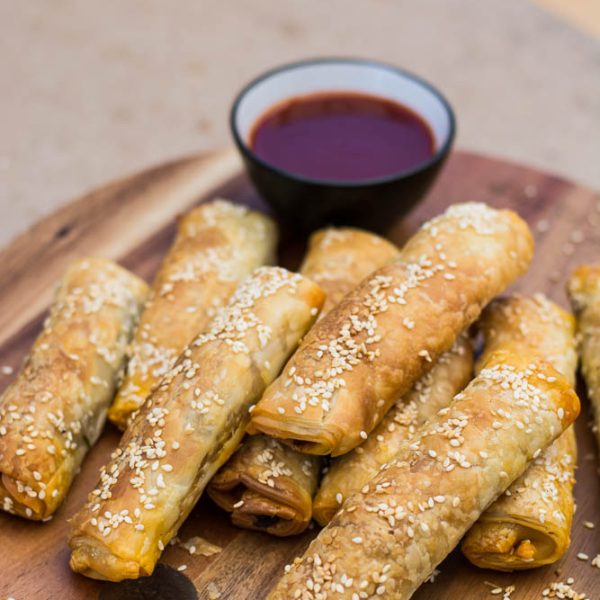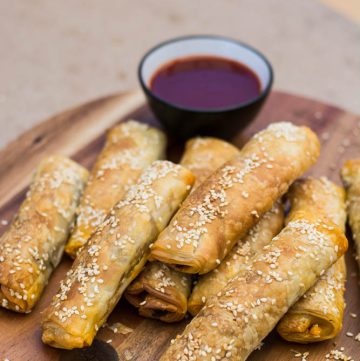 Print Recipe
Lamb Cigar Rolls
Ingredients
5

Puff pastry sheets; each sheet cut into four

500

gm lamb mince

1

small or ½ medium onion; finely chopped

3

medium garlic cloves; finely chopped

½

inch

ginger; finely chopped

2

heaped tbsp coriander leaves; finely chopped

½

tsp

cumin powder

¼

tsp

turmeric powder

½

tsp

dried mint

1

tsp

paprika

or use Kashmiri chilli powder

Salt

to season

A handful of chopped raisins

optional

Sesame seeds

for garnish

Vegetable oil
Instructions
Defrost the puff pastry sheets before use.

Heat 2-3 tbsp oil in a pan and brown the lamb mince in batches. Remove and keep aside.

In the same pan, add the onion, garlic and ginger; sauté till the onions have softened.

Next add the lamb mince back and season with the spices and salt. Mix well to combine and then add the raisins and coriander leaves. Mix well and remove from heat. Allow to cool completely.

Pre heat the oven (fan forced) to 200°C

Divide one pastry sheet into 4 equal squares.

Place 1-2 tbsp of the prepared mince at one end of the square. Wet the edges of the sheet and roll tightly to form a cigar shaped roll. Repeat for all the other sheets.

Place in a tray lined with baking paper. Spray the rolls lightly with oil and sprinkle the sesame seeds.

Bake in the oven at 200°C for 25 minutes or till golden brown (time taken may vary depending on the type of oven so check intermittently).

Serve warm with your choice of dipping sauce.
Notes
If you want to freeze for later, prepare the rolls and freeze in an airtight container. Keeps upto 2 months.