A delicious Bengali fish curry using Whiting or Lady fish with potatoes and resplendent with spices like mustard, Nigella seeds and aromatics.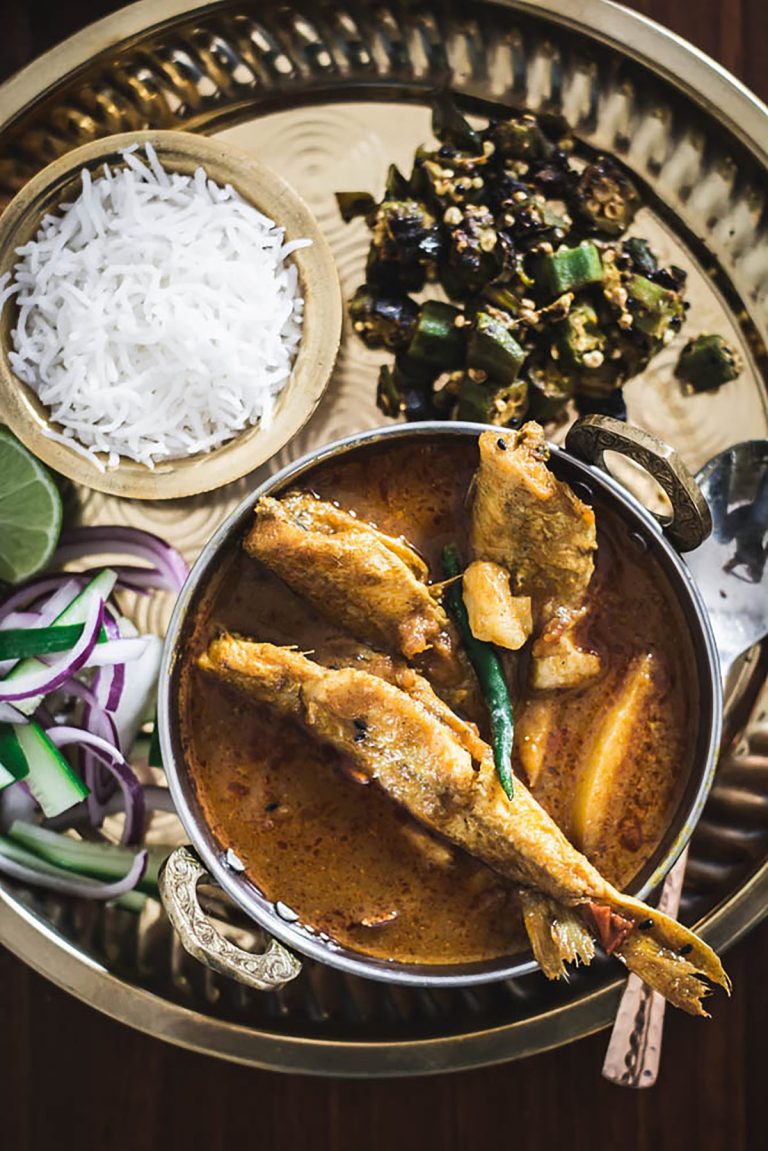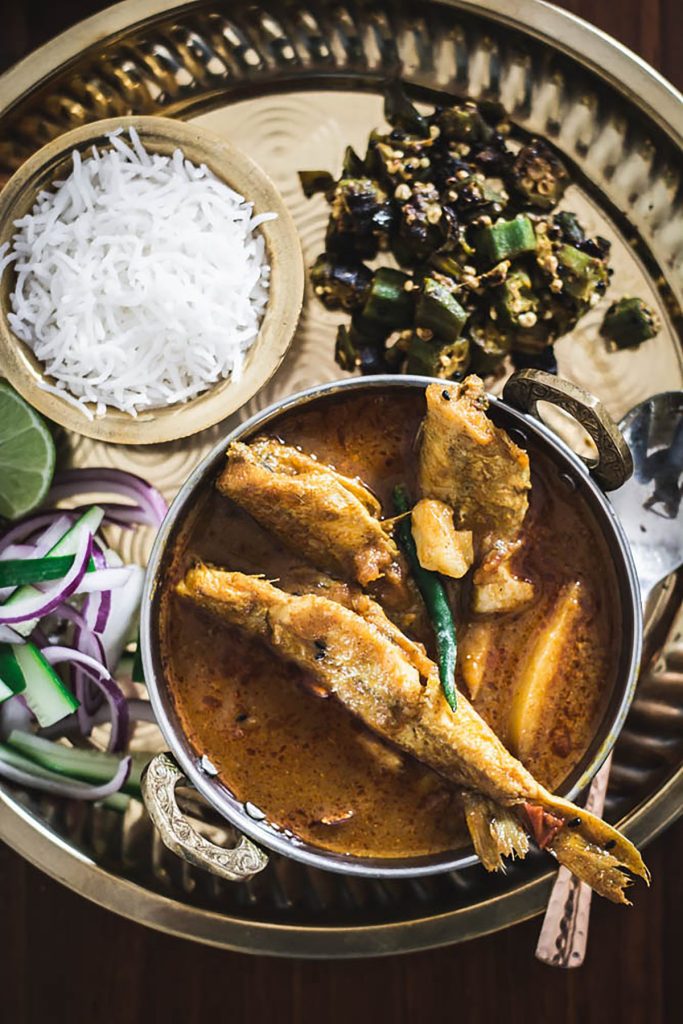 Bengalis and Keralites have plenty in common, a fact that's become common knowledge now due to the numerous Internet memes floating around.

(For my international readers, Bengalis are the natives of West Bengal, a state in the Eastern part of India while Keralites are the natives of Kerala, a state in the Southern part of India).

An outsider might not find much similarity but if you delve deep, there are quite a few that these states have in common in terms of politics, literature, art, fashion and food.

Now let's talk about food, since that's our topic of interest. The most obvious similarity between the cuisines would be the 'rice and fish curry' obsession. There cannot be a more comforting meal than this, a combination that is relished across the length and breadth of both the states.

Seafood is much revered in both states as they enjoy an envious coastline. But the irony is that there ends the similarity too because apart from the seafood craze, there's hardly much in common when it comes to preferred seafood varieties or style of preparation.

Bengali cuisine caught my attention when my interest in exploring regional Indian cuisines grew. But I was not a big fan of mustard oil and there's no cooking without mustard in Bengali food.
Initially, I tried adapting the dishes using vegetable or coconut oil but soon realised that I am not doing any justice to the cuisine of Bengal. That's when I slowly learnt to use mustard oil in the right quantities and also pick out dishes that are more familiar to my tastebuds. And the journey, ofcourse, began with seafood.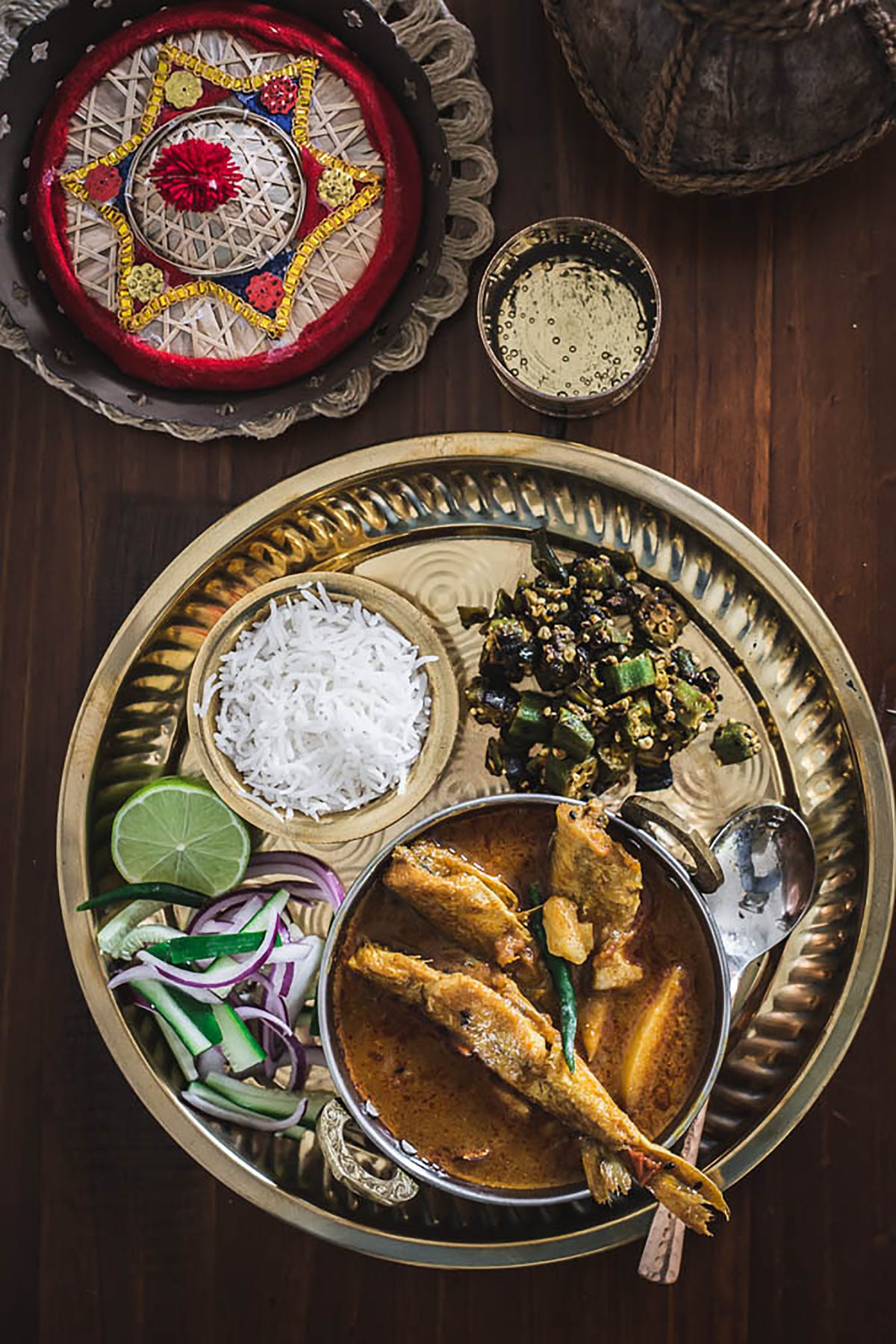 Today, there are plenty of Bengali dishes I cook on a regular basis in my kitchen like this simple cabbage dish or this delicious fish curry. But the learning never stops and so here is another delicacy from the Bengali kitchen – a simple fish curry using Silver Whiting.

Fish and potatoes is a very unique combination but one that is extremely popular in Bengali cuisine. Though initially skeptical, I was amazed at how beautifully both the ingredients come together in this curry. The combination of mustard seeds with kalonji (onion seeds) and other spices and aromatics lend an earthy flavour to the curry that has to be enjoyed with steamed rice.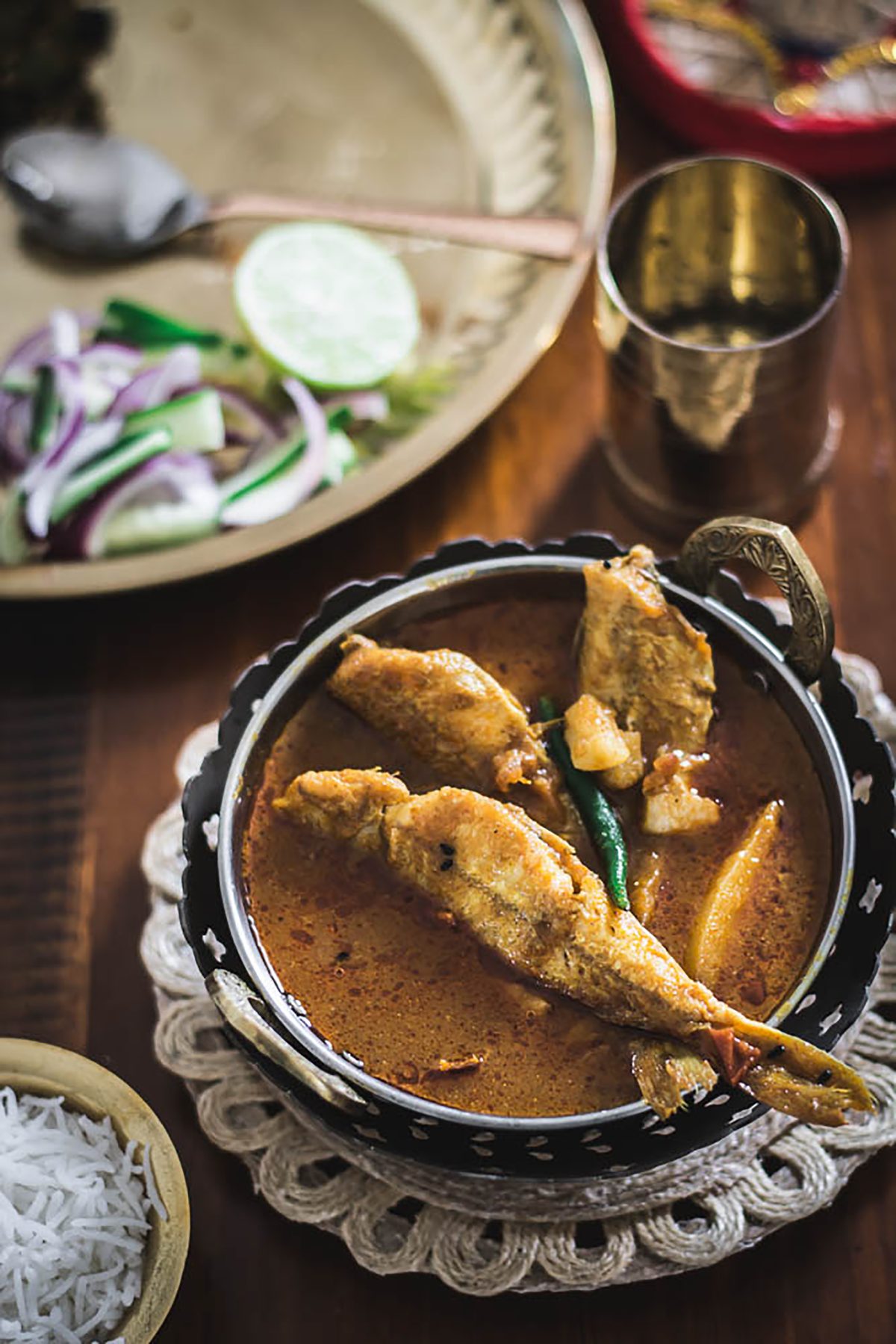 (Do you cook Bengali dishes at home? What's your favourite?)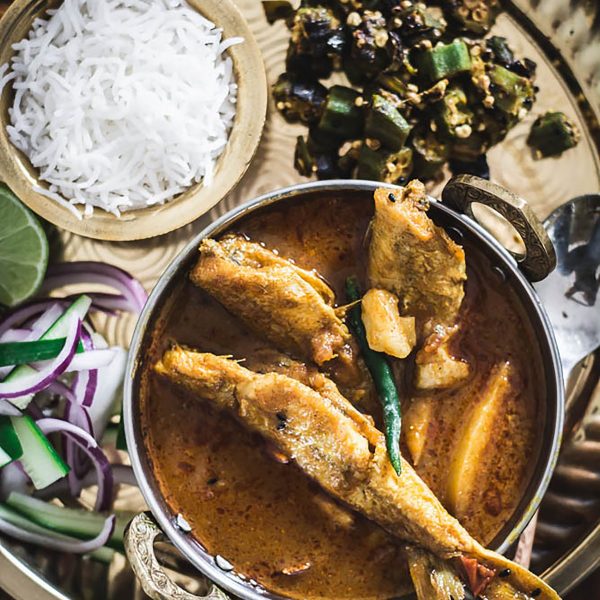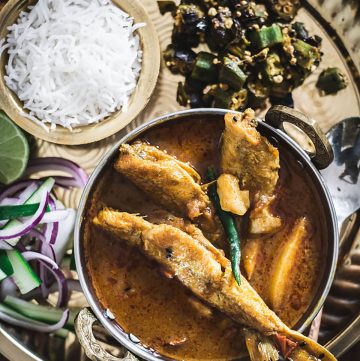 Print Recipe
Bengali Fish Curry with Whiting/Lady Fish
Ingredients
500

gms ladyfish; cleaned

head removed

1

medium potato; cut into long wedges/strips

1

large onion; grind to a paste with no water

3-4

garlic cloves; grated

1

inch

ginger; grated

1

medium ripe tomato; finely chopped

1

tsp

cumin powder

1 ½

tsp

turmeric powder

1

tsp

Kashmiri chilli powder

¼

tsp

onion seeds/kalonji

4-5

green chillies; slit lengthwise

½

tsp

sugar

Salt

to season

¼

tsp

garam masala

Mustard oil – to fry the fish + make the curry
Instructions
Clean the fish well. Add 1 tsp turmeric powder and salt, rub well into the fish and keep aside for 10 minutes.

Heat mustard oil in a pan and shallow fry the fish till half done. Remove and keep aside.

In the same oil, fry the potatoes till almost done; remove and keep aside.

You can use the same pan for preparing the curry (there should be around 3-4 tbsp oil to prepare the gravy so add more oil if necessary).

Add the onion seeds followed by the onion paste, grated ginger and garlic. Sauté for 4-5 minutes on low heat constantly stirring.

Then add the tomatoes and green chillies; sauté till the tomatoes are broken down and mushy.

Next add the remaining turmeric powder, cumin powder, chilli powder and sugar; mix well and continue to sauté on low heat till the oil starts appearing at the sides of the masala.

Add 1-2 cups water depending on how much gravy you prefer, season with salt and bring to boil.

Add the fried fish and potatoes to the gravy; cook covered on medium heat for 5 minutes or till the fish has cooked well.

Next add the garam masala, mix well taking care not to break the fish and remove from heat.

Serve warm with steamed rice