I often get the 'raised eyebrow' expression when I say that I occasionally eat kangaroo meat. While a couple of my friends are fascinated that I have experimentative tastebuds, most of them are quick to judge in the negative.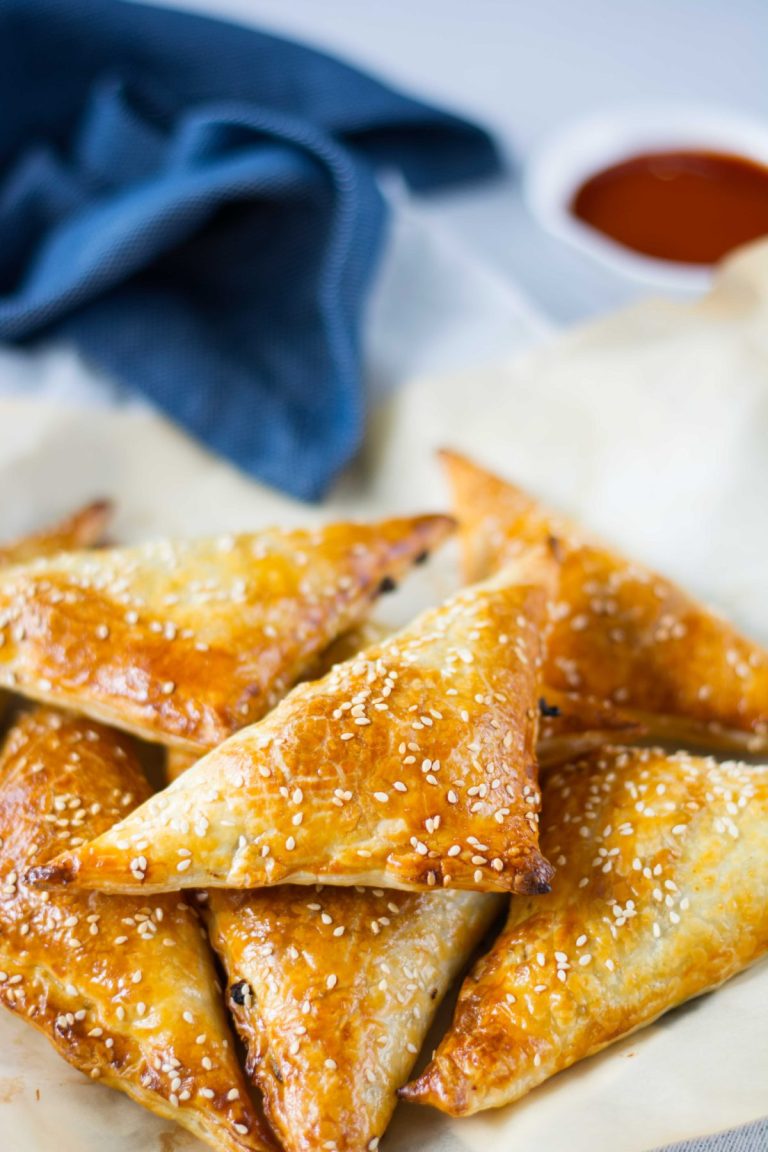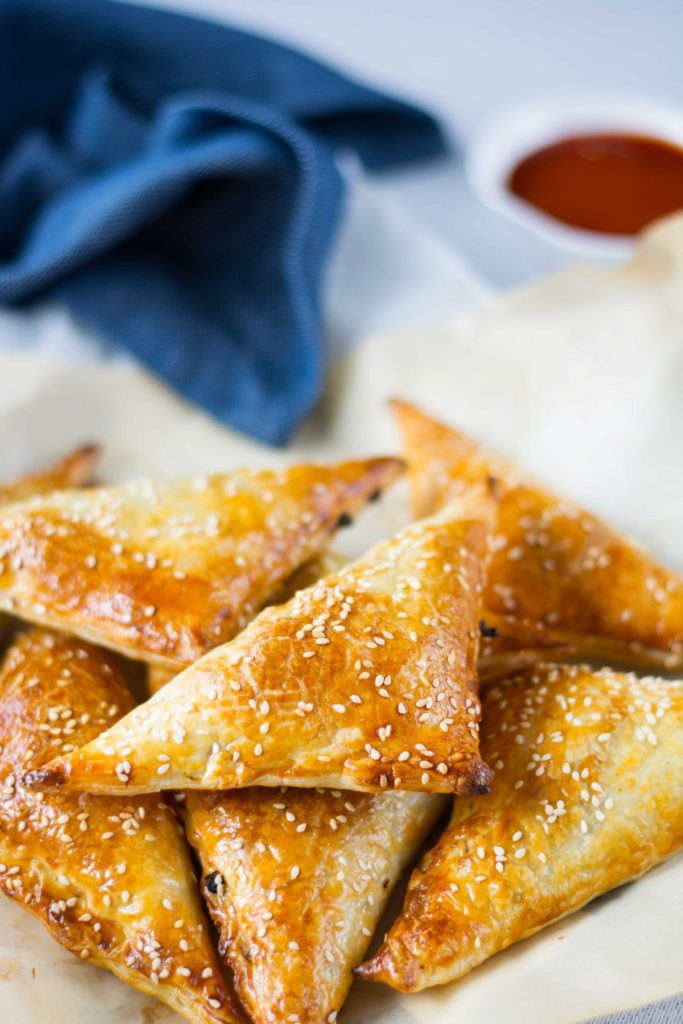 We have become so judgemental these days, even when it comes to food. It is the era of the global palate, yet we have divided and compartmentalized ourselves in so many food groups – non vegetarians, vegetarians, eggetarians, vegans, paleos with each group trying to sound more righteous than the next.

Why can't food be just what it is meant to be – to nourish our bodies and our souls. Eat what makes you healthy and happy without judging and having an opinion on another's diet!

Judgements aside, kangaroo meat is both delicious and healthy. While it is easily available in Australia and quite affordable too, it can be difficult and expensive to procure if you live elsewhere. It is important for me to purchase all the meat I consume from a verified, sustainable source and for kangaroo, it is 'Gourmet Game', a trademark of Macro Meats.

I have cooked with kangaroo before and it was a delicious experience. This time, I wanted to experiment with the mince and the inspiration for these Spiced Kangaroo Triangles came from the meat samosas that are famous in India.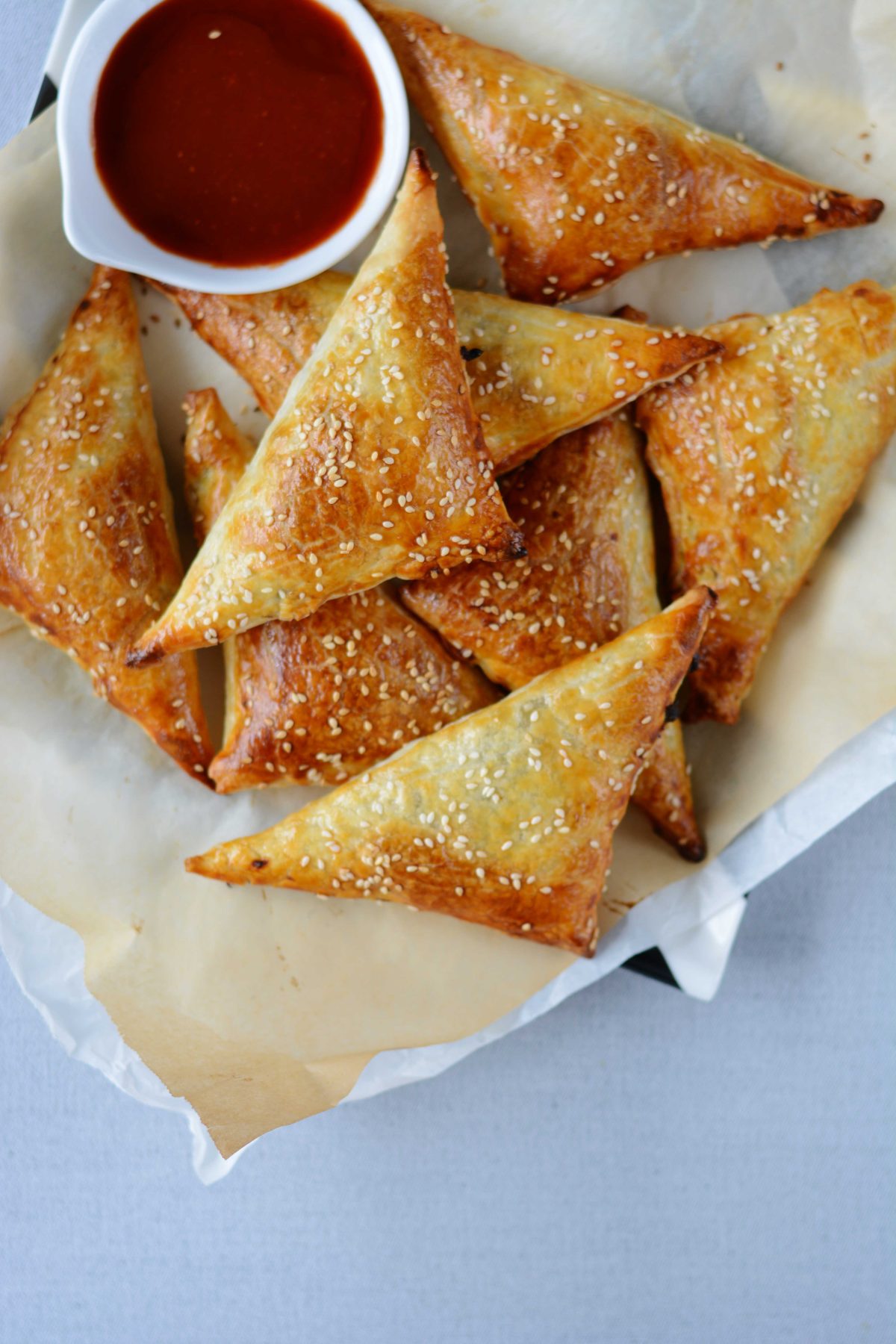 Though I started out with the idea of samosas, I wanted to simplify the whole process making the snack a little easier and quicker to make. Samosas can be a bit technical if you are not used to making it often. So instead I decided to do a simple stuffed triangle using store bought puff pastry sheets…like I said, making it simple and easy for everyone. Also these triangles are baked so no deep frying involved which is another plus.

Spices and aromatics are the magic ingredients here which transform the kangaroo mince into the most delicious filling. These spiced kangaroo triangles make the easiest party snack. The filling can be prepared ahead of time and all that you need to do on the day is make the triangles, a bit of egg wash and bake.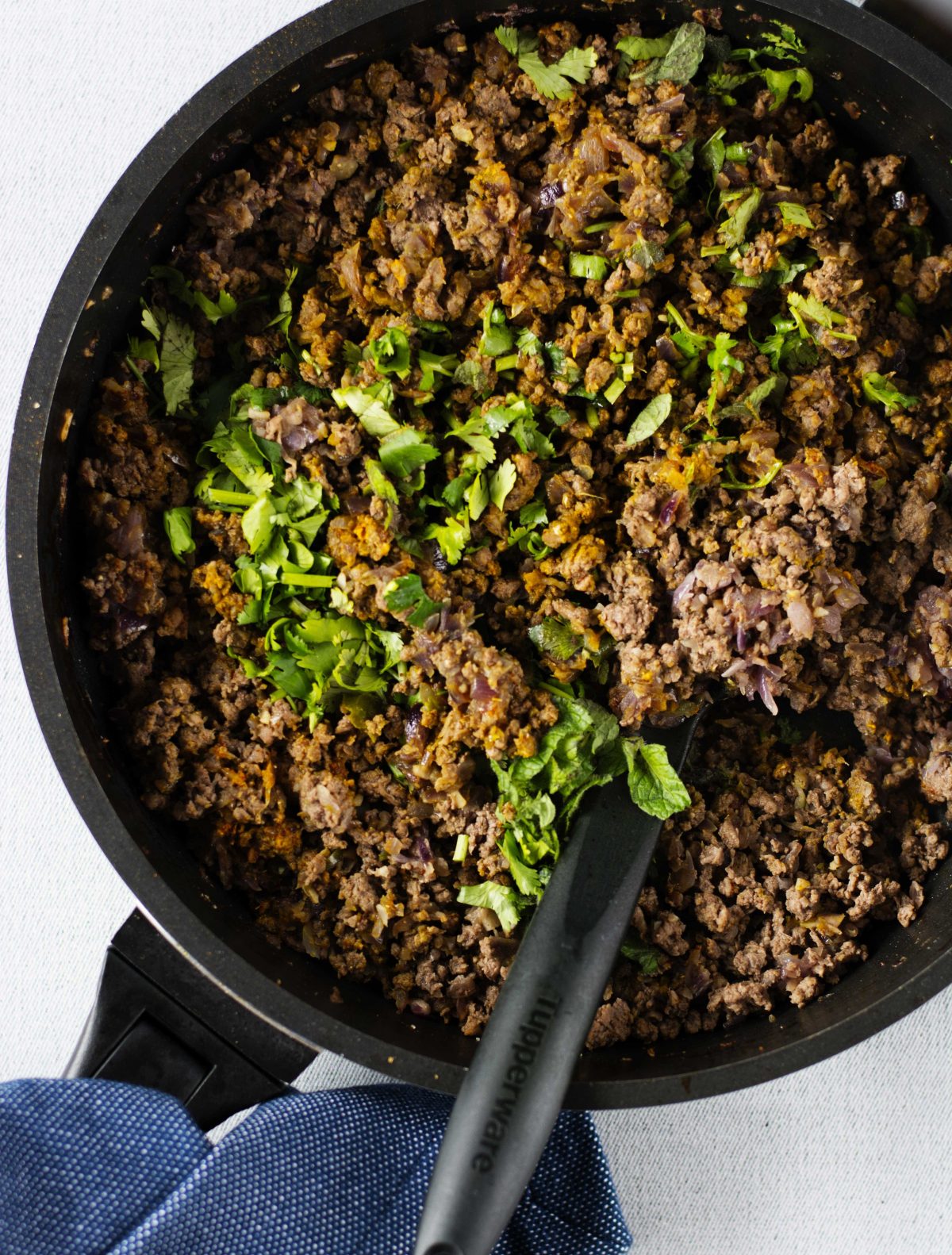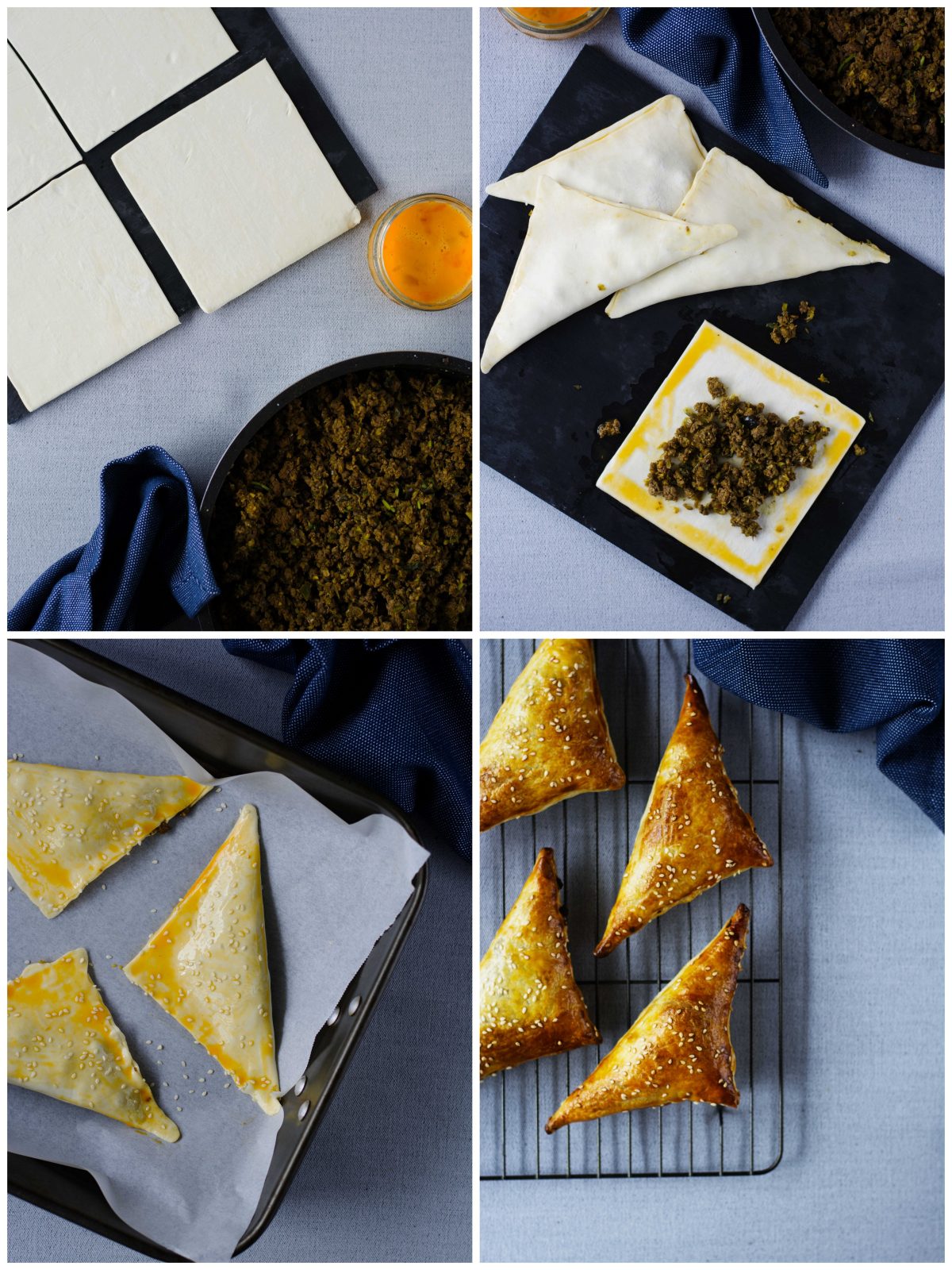 Use any kind of meat mince that you wish to, lamb, beef, chicken, all make great options. Or a vegetarian one with the classic ricotta and spinach or spiced potatoes. Just try it once and I am sure you will be making it over and over again….believe me, I have been making it a lot.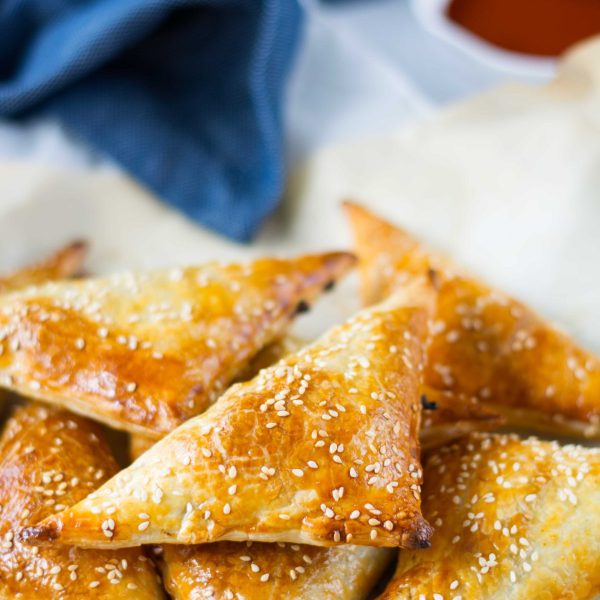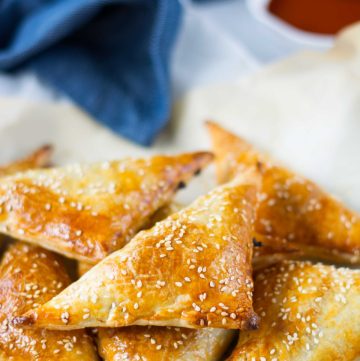 Print Recipe
Spiced Kangaroo Triangles
Ingredients
1

kg

kangaroo mince

3

medium red onions; finely chopped

3

garlic cloves; grated

1

tbsp

ginger; grated

3

green chillies; finely chopped

adjust to heat preferences

½

tsp

turmeric powder

¾

tsp

red chilli powder

1

tbsp

coriander powder

½

tsp

roasted cumin powder

Salt

to season

2

tbsp

coriander leaves; finely chopped

1

tbsp

mint leaves; finely chopped

3-4

tbsp

vegetable oil

Puff pastry sheets

each pastry sheet makes 4 triangles

1

egg beaten; for egg wash

White sesame seeds; for garnish
Instructions
In a large pan, dry roast the mince till it has browned well. Brown in batches on high heat if the pan is small so that the mince is dried out and not stewed in its own juices. Remove and keep aside.

Heat oil in the same pan and add the onions; sauté for 2-3 minutes on medium heat and then add the ginger, garlic and green chillies. Sauté till the onions are light brown, reduce heat and add all the spice powders. Season with salt, add the mince and mix well to combine. Finish off with the coriander and mint leaves. Remove and allow to cool completely before stuffing in the triangles.

In the meantime, thaw the frozen pastry sheets.

Preheat the oven to 200°C (fan forced oven) and line an oven proof tray with baking paper.

Cut each pastry sheet into 4 equal squares.

Place about 2 tbsp of the meat mince in the centre of each square. Brush egg wash on all the four sides of the square and fold diagonally to form a triangle. Press lightly at the edges and place on the baking tray. Repeat for all others.

Finally, brush egg wash on the top surface of the triangles and sprinkled with sesame seeds.

Bake for about 12-13 minutes or till the triangles are golden brown on the surface.

Enjoy warm with sweet chilli sauce.
Notes
The cooked mince freezes well to be used at a later date. I make it in bulk, freeze in batches and always have a pack of puff pastry sheets in the freezer; very handy for after school hunger pangs and unexpected guests.