A delicious Freekeh Pilaf, with caramelized onions, garlic, diced chicken and flavoured with paprika, cumin, all spice and cinnamon. Drizzled with a garlicky lemony yoghurt dressing, this is a delicious one pot meal under 30 minutes.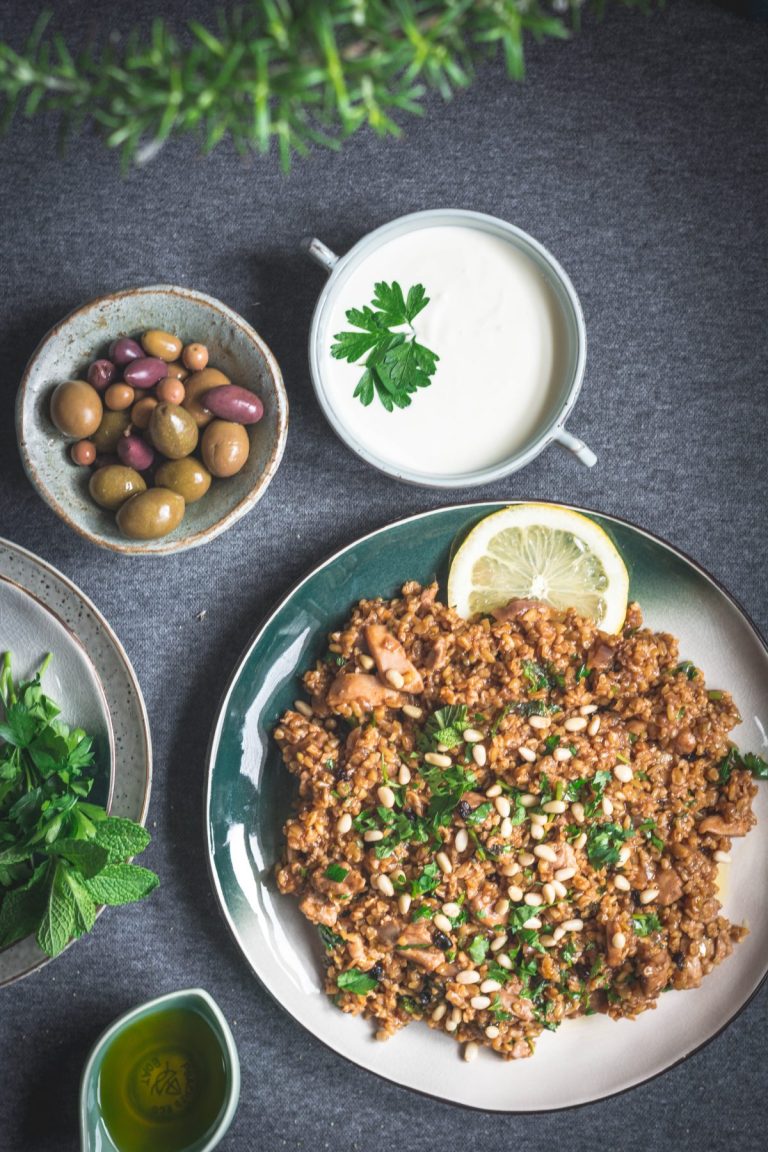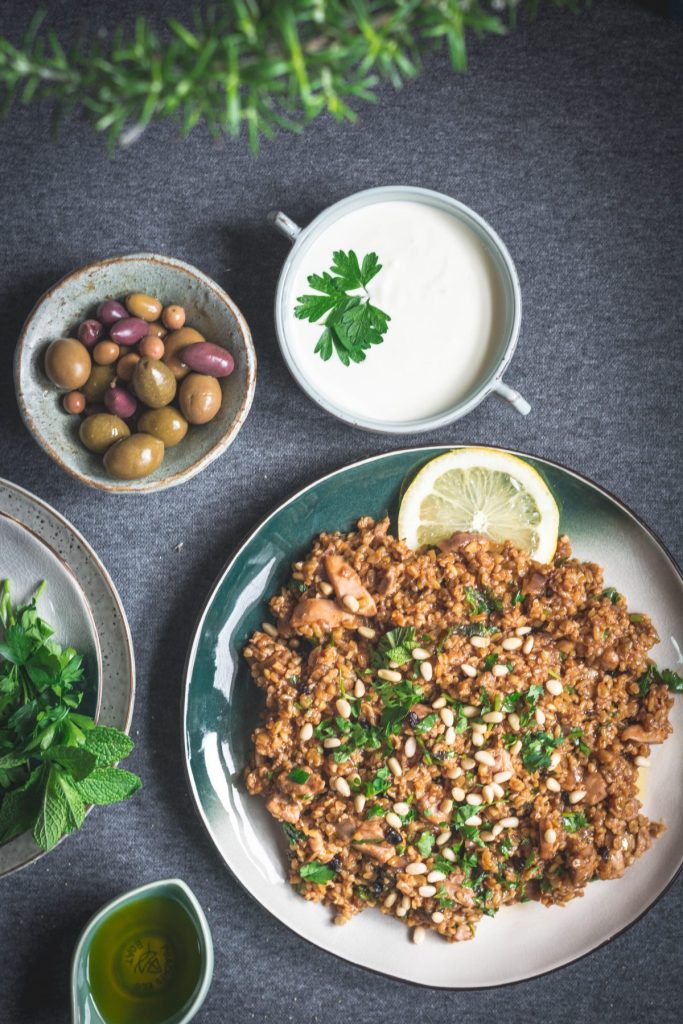 Ancient grains, lentils, pulses have all gone through a revival of sorts in the recent years with a large section of the world waking up to its benefits, not only to preserve these ancient ingredients but also sick and tired of what the processed food culture is doing to our health and well-being.

As I mentioned in my post on French Green Lentils, I had been pretty one-dimensional in my knowledge or use of grains, lentils and pulses. India has always had a rich agricultural heritage when it came to this food category but many of our households have not embraced it well in the modern times. And while my mom did try to introduce us to a large variety of these, I was quite the difficult to please kid who loved food but had very strong likes and dislikes.

While I was easy with vegetables and fruits, I always found it hard to embrace different types of grains or lentils. As my food knowledge grew over the years, especially after getting exposed to different cuisines, I realized that it was the taste of the dish that was putting me off a particular ingredient than the taste or texture of the ingredient itself. For eg: I would love a particular type of lentil in a salad but not in a traditional Indian style lentil curry.

Thus began the quest to discover and experiment with different cuisines, recipes etc… that will help me not just to embrace these ingredients again but genuinely enjoy the experience too.

And that's how a packet of freekeh ended up in my pantry….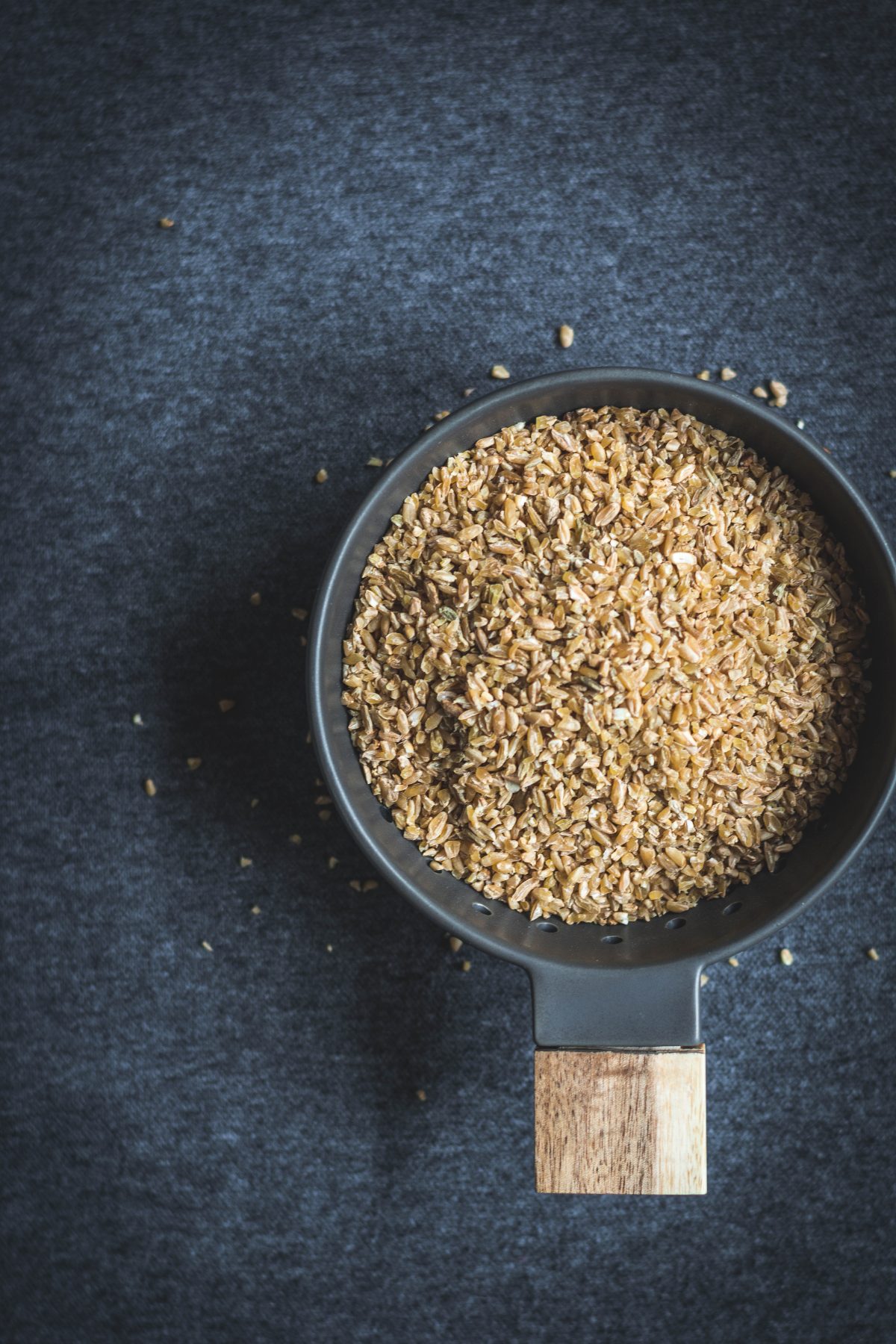 Freekeh is an ancient grain that is made from green durum wheat. It is highly nutritious and a great source of protein apart from being rich in dietary fiber, B vitamins and minerals like manganese. Freekeh is often referred to as green wheat as the grains are harvested when young and green which makes it higher in nutrients when compared to mature wheat grains.

Freekeh is extremely popular in North African, Meditteranean and Middle Eastern cuisines often used in salads and stews. But these days, freekeh has become more versatile in its use including the use of freekeh flour to make breads, pasta etc…

I decided to keep it simple and use it in a pilaf which makes it an excellent replacement for rice. The idea for a freekeh pilaf came about since I had a similar dish in a restaurant before. And a bit of research later, I found an Ottolenghi recipe for a freekeh pilaf which seemed to fit the bill. But of course I had to tweak it to suit my tastebuds and also included chicken to make it a one pot, wholesome dish. Feel free to omit the chicken if you want to keep it vegetarian.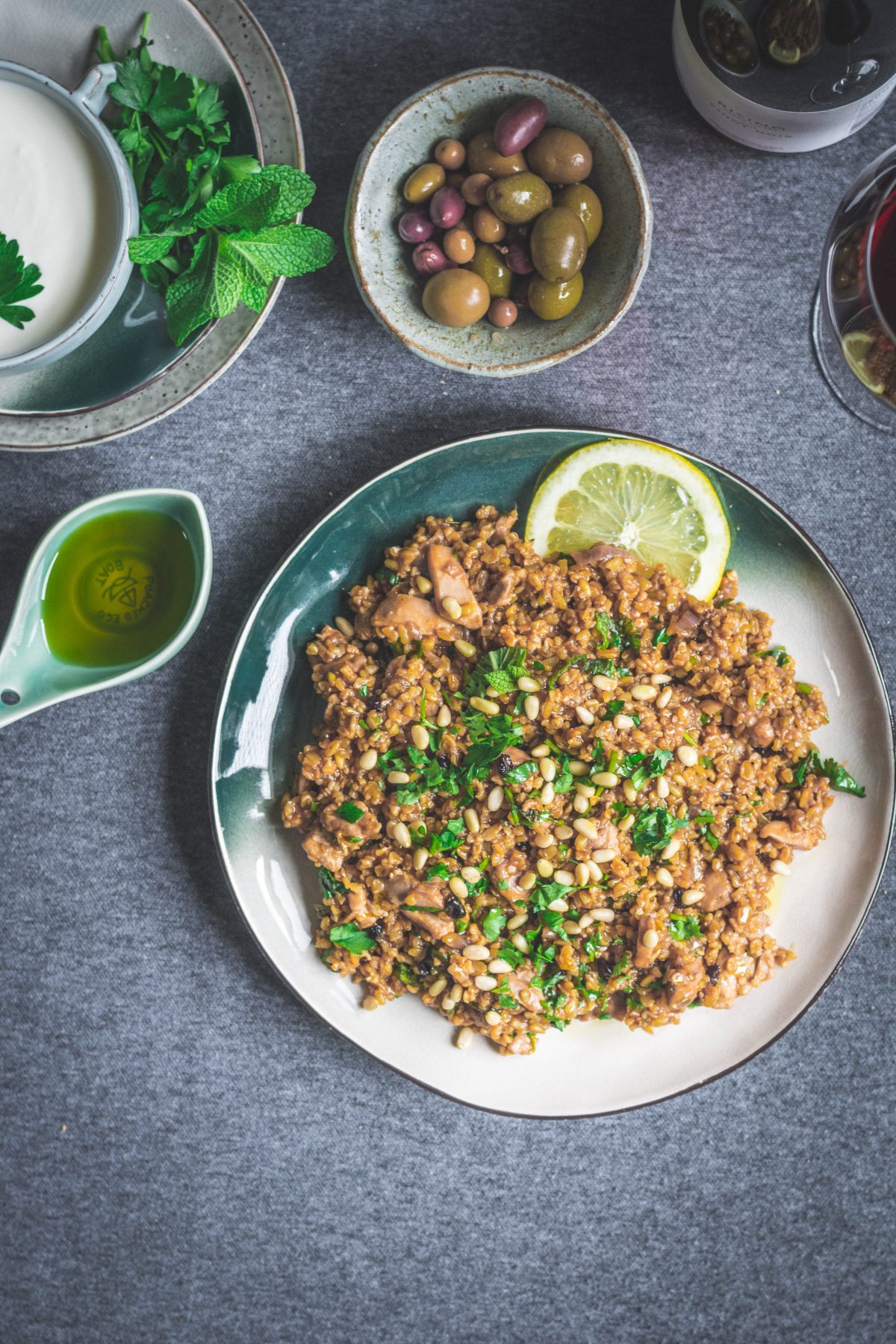 Freekeh is available as whole and cracked grains; I have used the cracked variety as I preferred the texture better. These grains are easy to cook and require very less time.

Note – The colour of my freekeh pilaf is slightly darker due to the meat stock used; but if you use a chicken or vegetarian stock, then the final colour of the dish will be much lighter.

So let's get cooking this delicious Freekeh Pilaf, with caramelized onions, garlic, diced chicken and flavoured with paprika, cumin, all spice and cinnamon. Drizzled with a garlicky lemony yoghurt dressing, this is a delicious one pot meal under 30 minutes.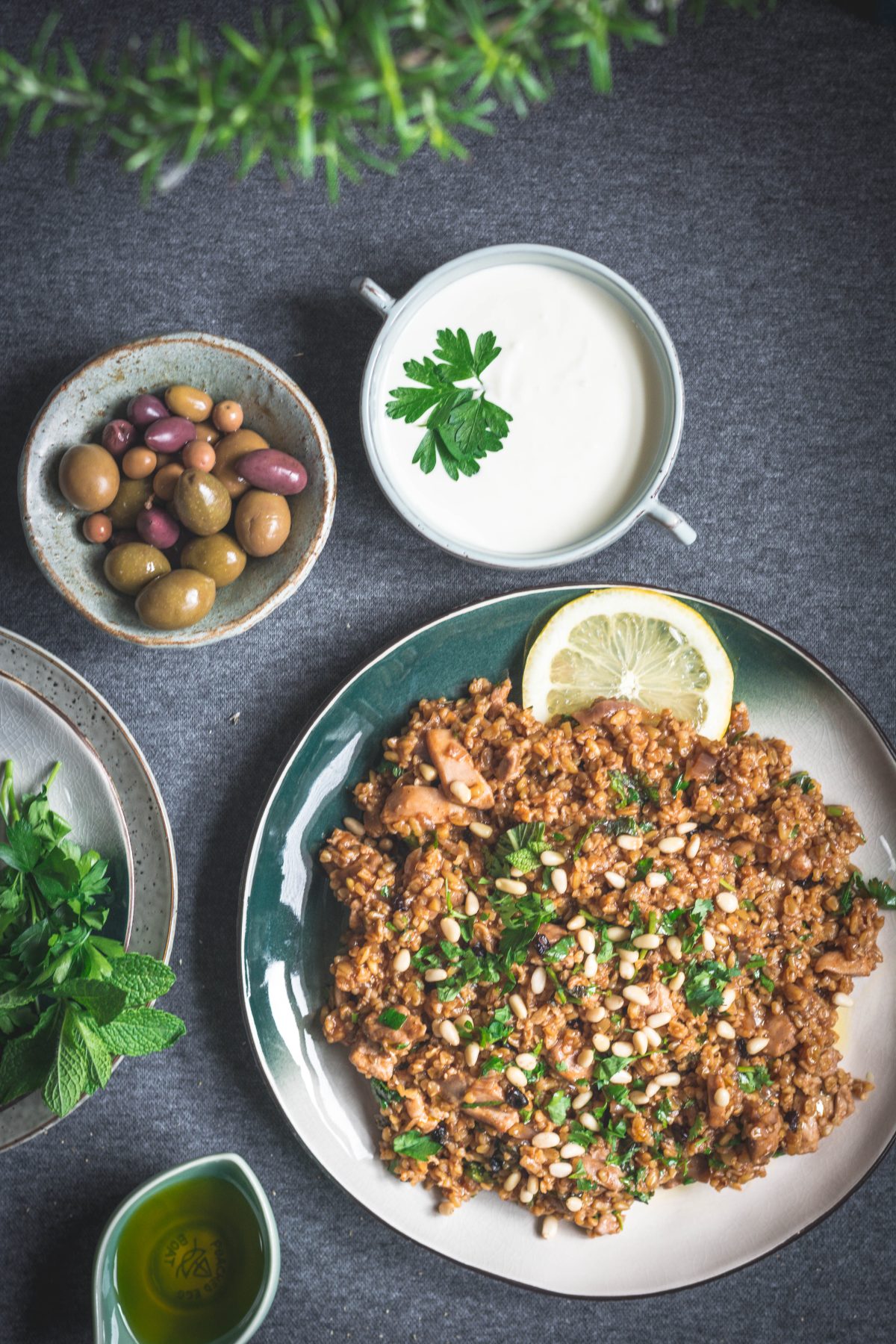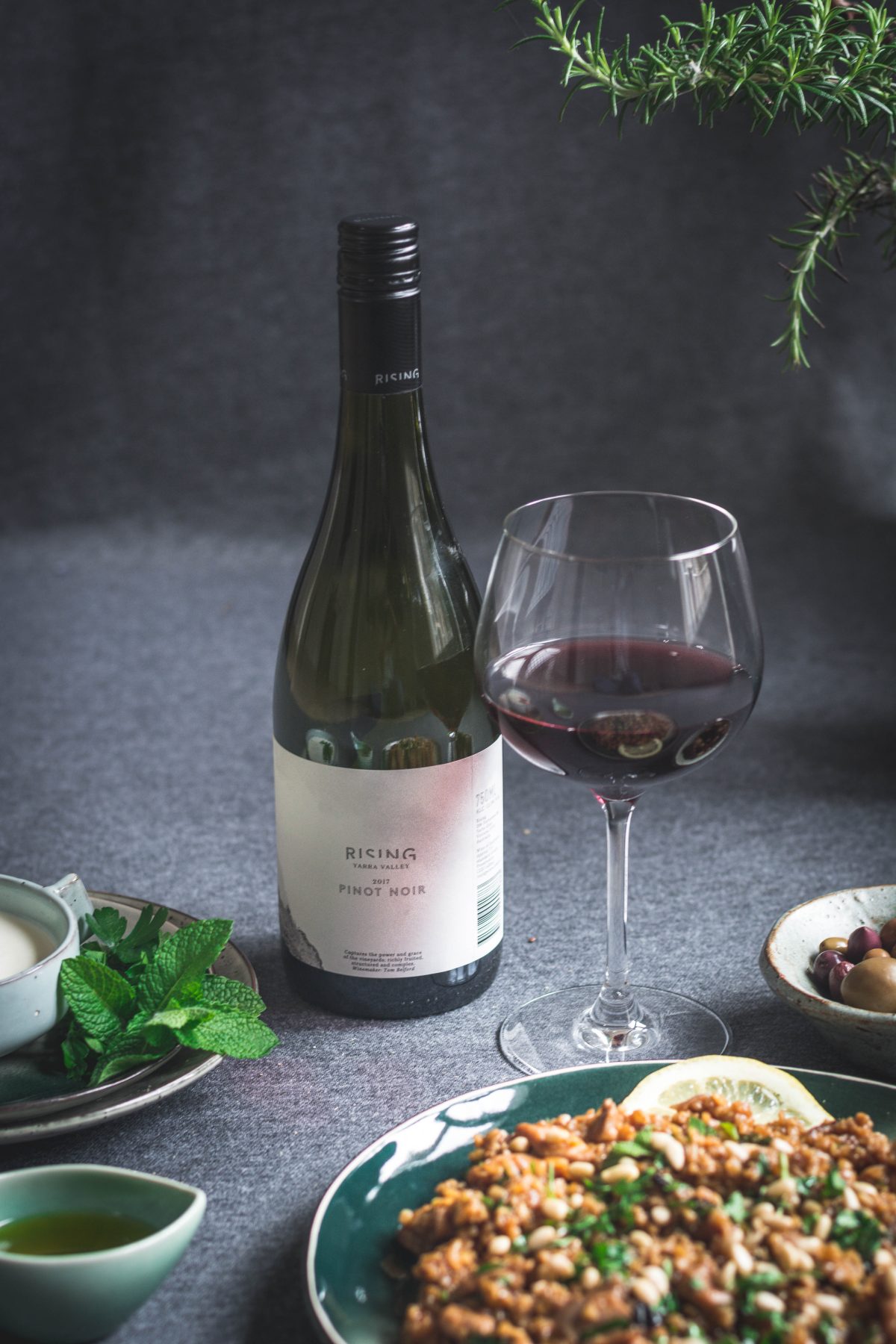 Another favourite one pot meal is this delicious Greek style Prawn Pilaf or Pilafi Me Garithes.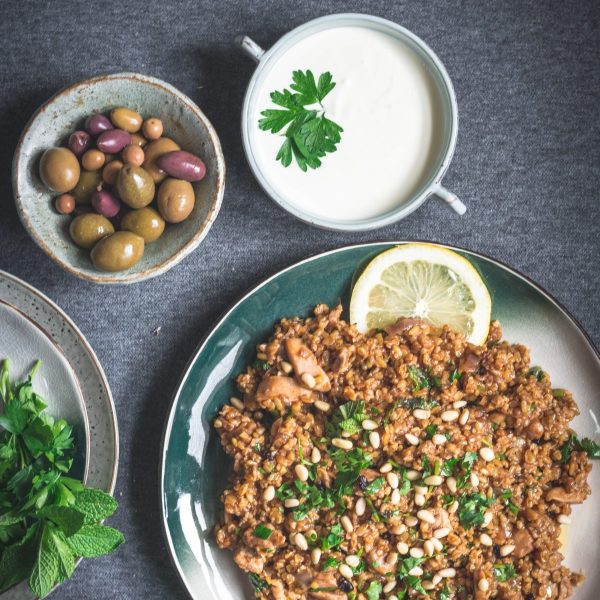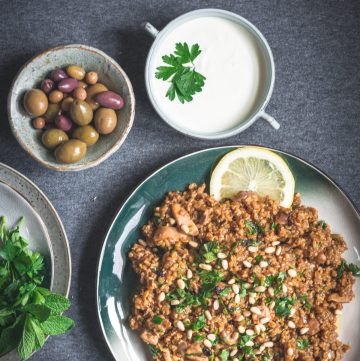 Print Recipe
Freekeh Pilaf
Ingredients
1

cup

cracked freekeh

2

tbsp

unsalted butter

2

tbsp

olive oil

2

medium brown onion; finely sliced

2

garlic cloves; finely chopped

250

gms boneless chicken thigh; diced

¼

tsp

cinnamon powder

½

tsp

all spice powder

½

tsp

smoked paprika

1

tsp

crushed cumin

Salt

to season

Freshly milled black pepper; to season

3

cups

stock

A handful of dried barberries

2

tbsp

fresh parsley leaves

2

tbsp

toasted pine nuts

Olive oil; to drizzle while serving
Yoghurt sauce:
1

cup

plain yoghurt

1

small garlic clove; grated

1

tsp

lemon juice

Salt

to season
Instructions
Soak the cracked freekeh for 5 minutes and then wash thoroughly under running cold water. Drain and keep aside.

Soak the dried barberries and toast the pine nuts. Keep aside for serving.

In a large pan, heat butter and olive oil. Add the onions and garlic; sauté till the onions are softened and light brown.

Add the diced chicken pieces and cook on medium heat till almost done.

Then add all the spices and the drained freekeh; mix well to combine.

Add the stock and season with salt and pepper. (If using store bought stock, make sure you taste and add salt as the stock often contains salt).

Bring to boil and then reduce heat to lowest and cook covered for 15 minutes or till all the stock has been absorbed.

Remove from heat and keep covered for another 5 minutes.

To prepare the yoghurt sauce, add the plain yoghurt to a bowl along with grated garlic and lemon juice. Taste and add more lemon juice if necessary and season with salt. Keep aside.

Remove the lid and allow the pilaf to cool for another 3-5 minutes.

To serve, garnish with barberries, parsley, pine nuts. Drizzle the yoghurt sauce on top followed by the olive oil.

Tuck in!