Aren't one pot meals the best kind of weeknight dinners? This One Pot Spanish Rice with Chorizo is super simple to make with ingredients always at hand. Delicious, hearty and enjoyable for the whole family.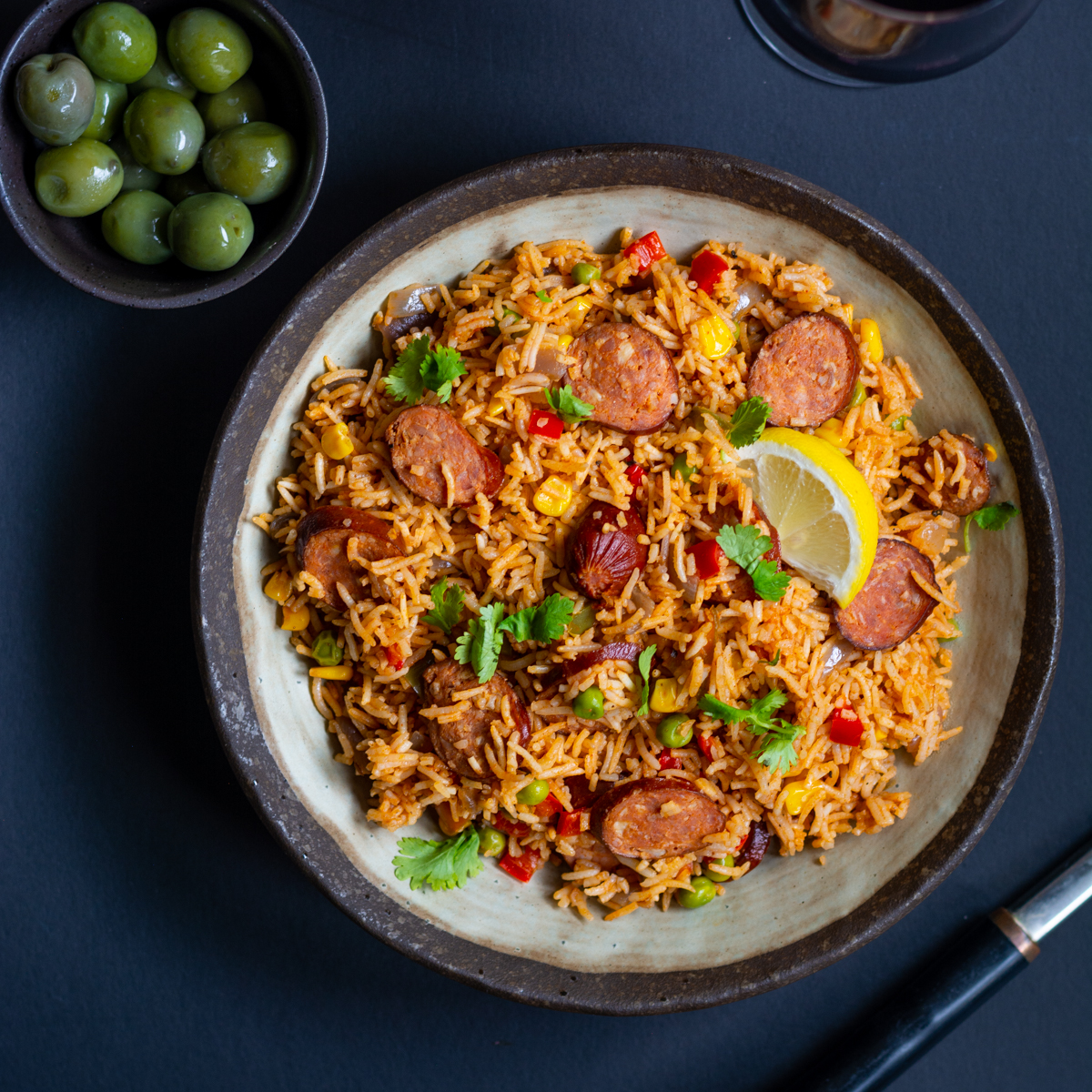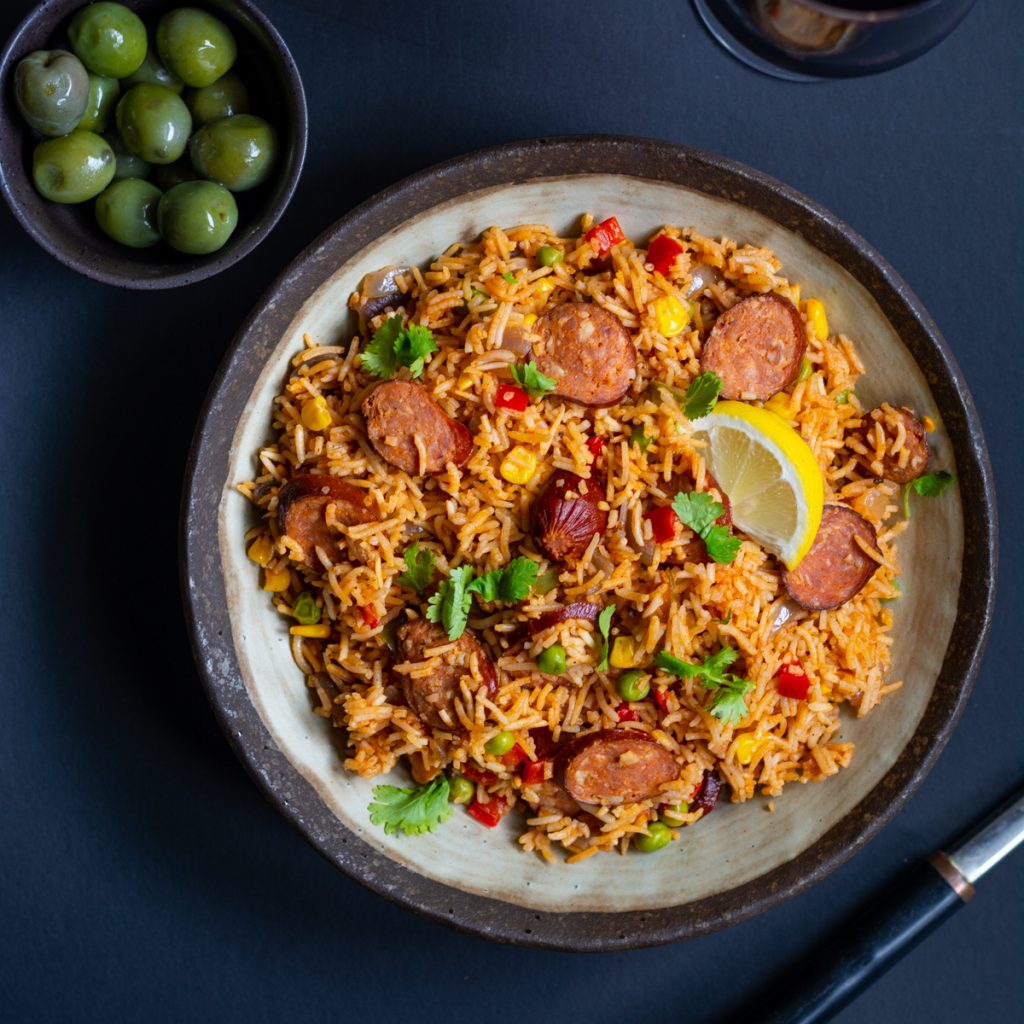 If you had read my previous post, then you would be aware of our new fur baby 'Bernie'.
So, little Bernie luuuuuvves to eat and is turning out to be quite the gourmand. And I love feeding him.
Apart from cooking and creating recipes for the family, blog, clients etc…. I am now enjoying the task of putting together meals for my little mischief maker. Photographing him and his antics has become my new hobby.
Just to keep stuff separate from my main IG account, I have created a new page for him….'Bernie_the_Borlie'. Feel free to follow if you would love to see more of his shenanigans.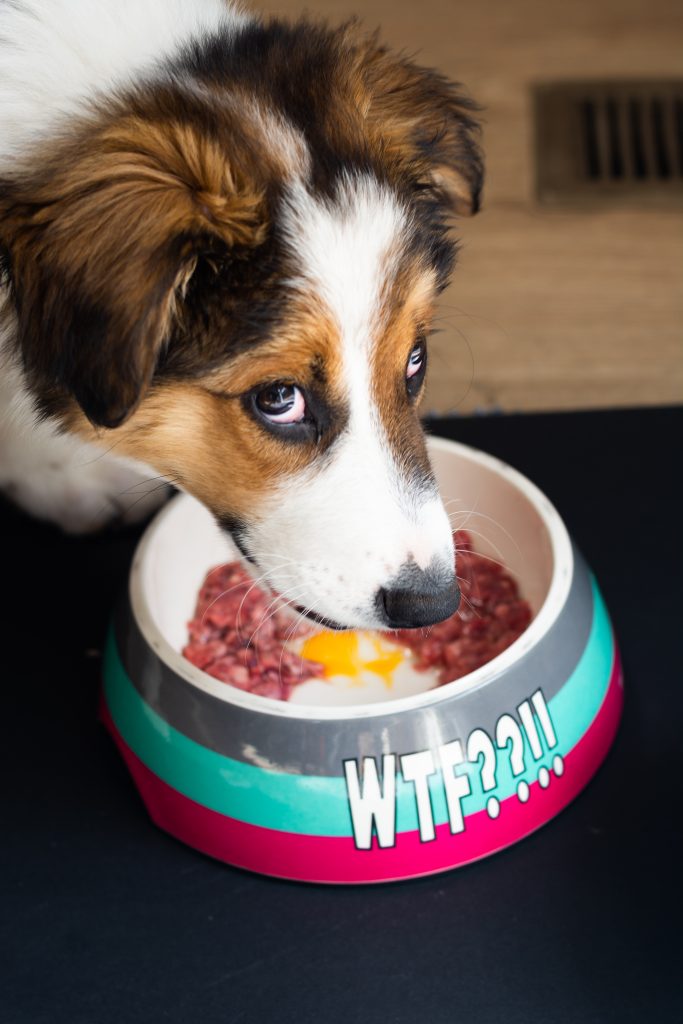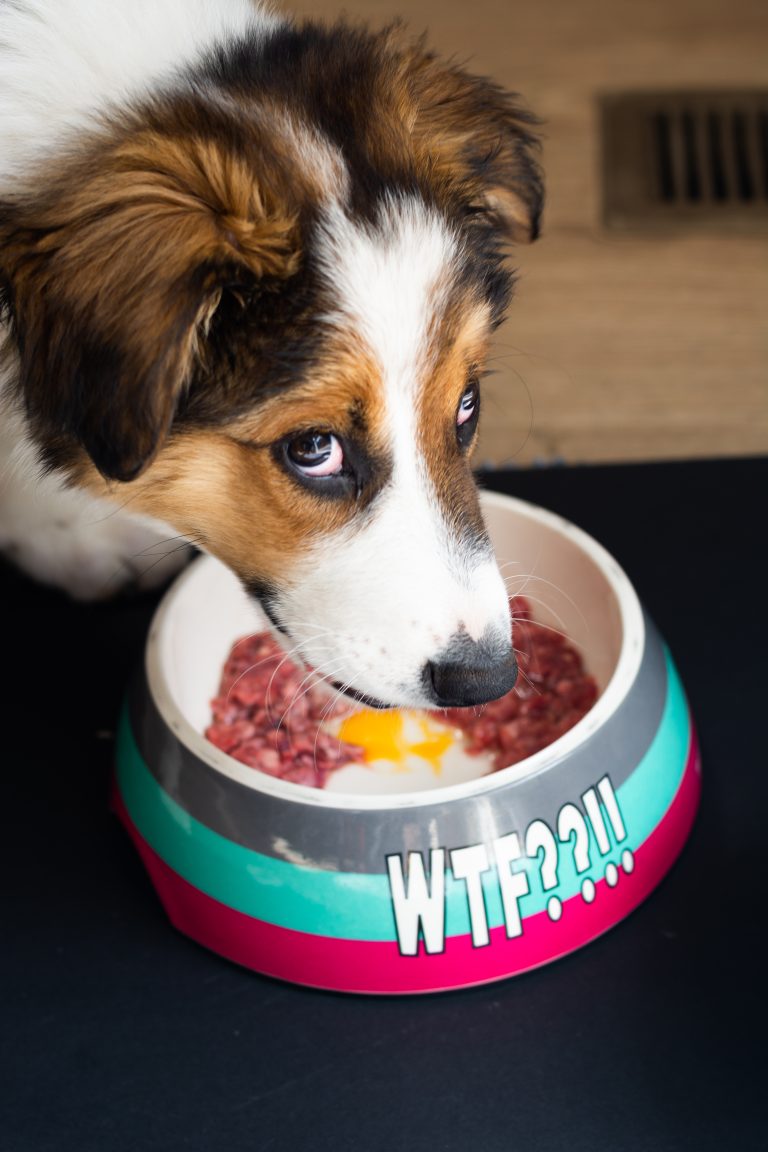 Getting back to today's recipe, this Spanish rice with chorizo is a big hit in our household. Make it for lunch or dinner, it's bound to become your favourite too.
Why you'll love this Spanish rice with chorizo….
It's a one pot meal that's simple and easy to make.
A delicious way to cook chorizo other than grilling.
Leftovers will always be welcome in lunch boxes.
Can be prepared ahead of time; keeps in fridge for upto 3 days.
Adi loves to call this the sausage rice but the bold, punchy flavours from the tomato, paprika and herbs remind me of a paella.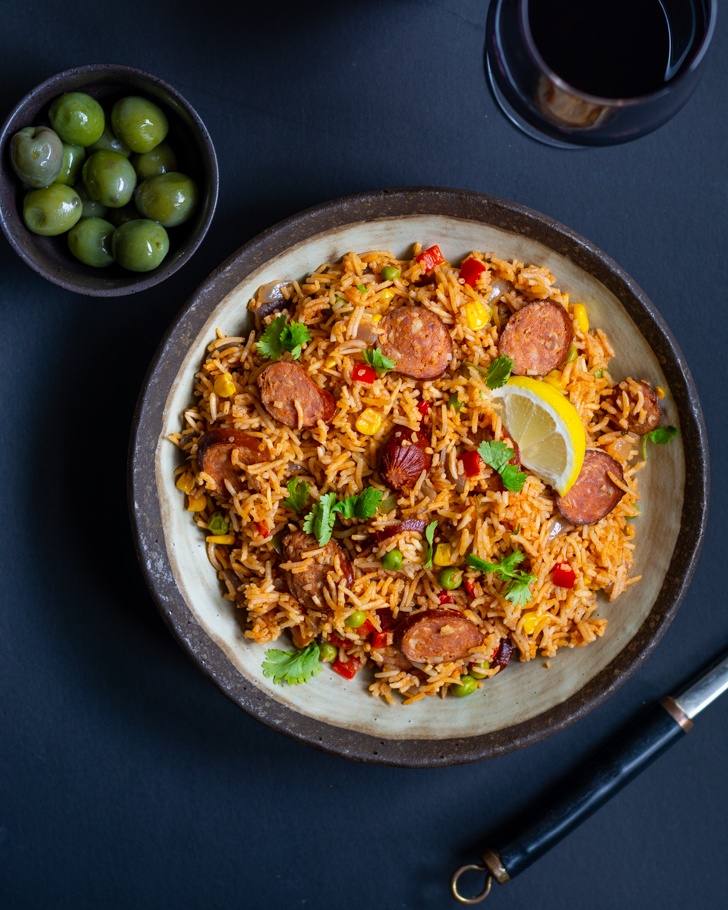 Ingredients & Variations:
Chorizo – Good quality chorizo makes all the difference as it's the star ingredient. I prefer to buy mine at the local deli; the quality is much better than supermarket brands. The chorizo adds a delicious smoky, spicy flavour but without too much heat so that kids will enjoy it too. Substitute with any other type of sausage including skinless ones if you are not a fan of chorizo.
Rice – I used long grain white rice for this Spanish rice with chorizo. Substitute with basmati or other types of white rice, but not sticky rice varieties.
Oil – I have used chilli infused olive oil but you can substitute with any kind of olive oil or vegetable oil.
Chicken stock – Use instead of water to cook the rice for loads of flavour
Spices and aromatics – onion, garlic and spices like smoked paprika (sweet paprika can also be used), cumin and black pepper.
Fresh lime wedges to serve.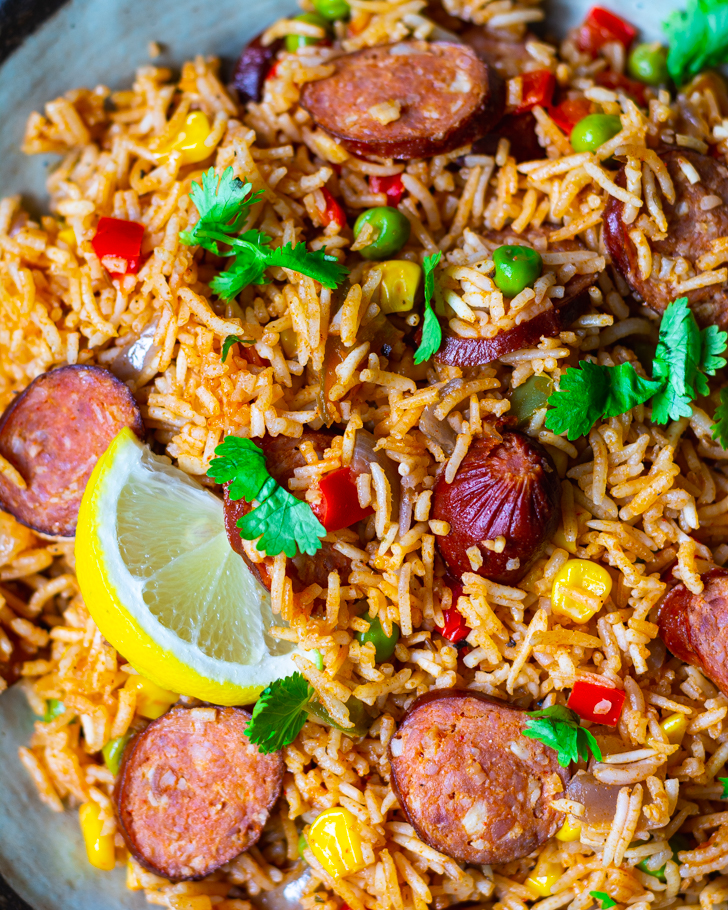 I use the infused olive oils from Kyneton; the most flavourful ones I have tried so far.
Dinner Inspiration:
If you are looking for easy, weeknight dinners for the whole family, then check out these three recipes;
Duck Noodles with Ginger and Shitake
Spanish style Sausage and Potato Bake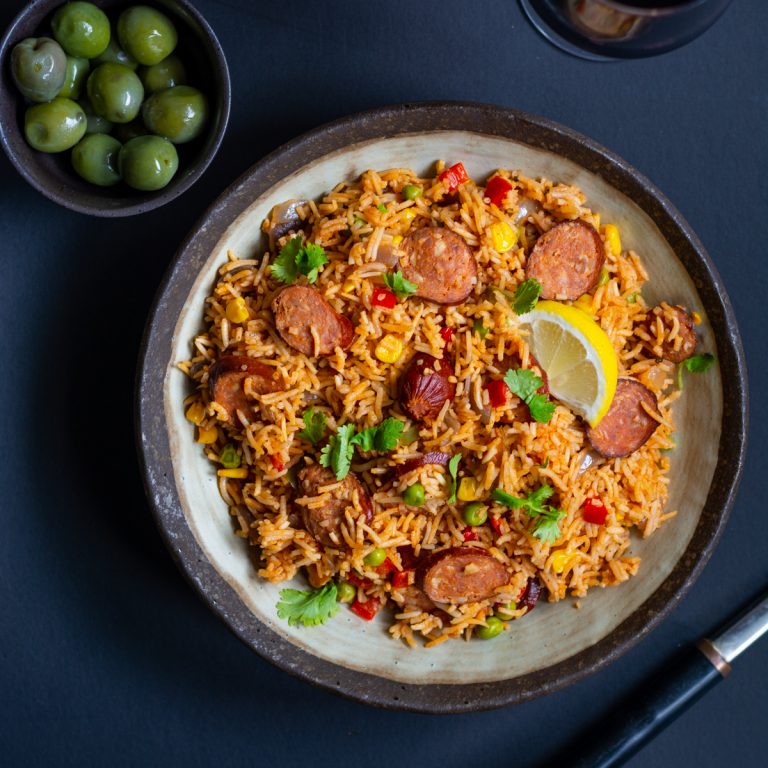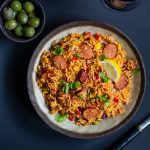 Print Recipe
Spanish Rice with Chorizo
Ingredients
2

chorizo sausage; thinly sliced

2

cups

long grain white rice; washed and soaked

3

tbsp

chilli infused olive oil

refer notes

1

Spanish red onion; diced

3

medium garlic cloves; finely chopped

1

red capsicum; diced

1

yellow capsicum; diced

1

cup

frozen peas

1

cup

frozen corn kernels

1

ripe tomato; finely chopped

3.5

cups

chicken stock

refer notes

2

tbsp

tomato paste

refer notes
Spices
1.5

tsp

smoked paprika

½

tsp

cumin powder

Black pepper; to season

Chilli powder

optional, for extra heat

Salt

to season
To serve;
Lime wedges

½

cup

fresh coriander; finely chopped
Instructions
Drain the rice and keep aside.

Heat 1 tbsp olive oil in a large non stick wok or frying pan, add the sliced chorizo and fry on medium heat till it turns crispy and browned around the edges. Remove the chorizo and keep aside.

Leave the oil from the chorizo in the pan and add the remaining olive oil to it. Add the onion and garlic; saute for a minute till softened.

Add the fresh tomatoes and all the spices; stir and cook for another minute till fragrant.

Next add the rice and stir through. Cook for 4-5 minutes on low heat.

Finally add the vegetables, chorizo, tomato paste, chicken stock and stir through. Taste and adjust salt as per preferences. Bring to boil.

Cover the pan and continue to cook on low heat till the rice has cooked through. Stir through once or twice to ensure that there is enough stock and rice is not sticking to the bottom.

Once the rice has absorbed all the stock, turn heat off and keep covered for another 5 minutes.

Serve warm garnished with coriander leaves and lime wedges.
Notes
• Regular olive oil/vegetable oil can be used instead of chilli infused olive oil
• Chicken stock adds more flavour than water while cooking rice. But if you don't have any, water works perfectly fine.
• I used a mix of fresh tomatoes and tomato paste. If you are using only tomato paste, increase the amount to 3 tbsp.