One of the simplest dishes, this Peri Peri Pasta with bacon and oyster mushrooms is bound to be a big hit with your children. The star ingredient is the peri peri sauce from Nando's which adds a delicious, flavourful punch. The bacon and mushrooms make this dish so moreish that you want to have seconds for sure.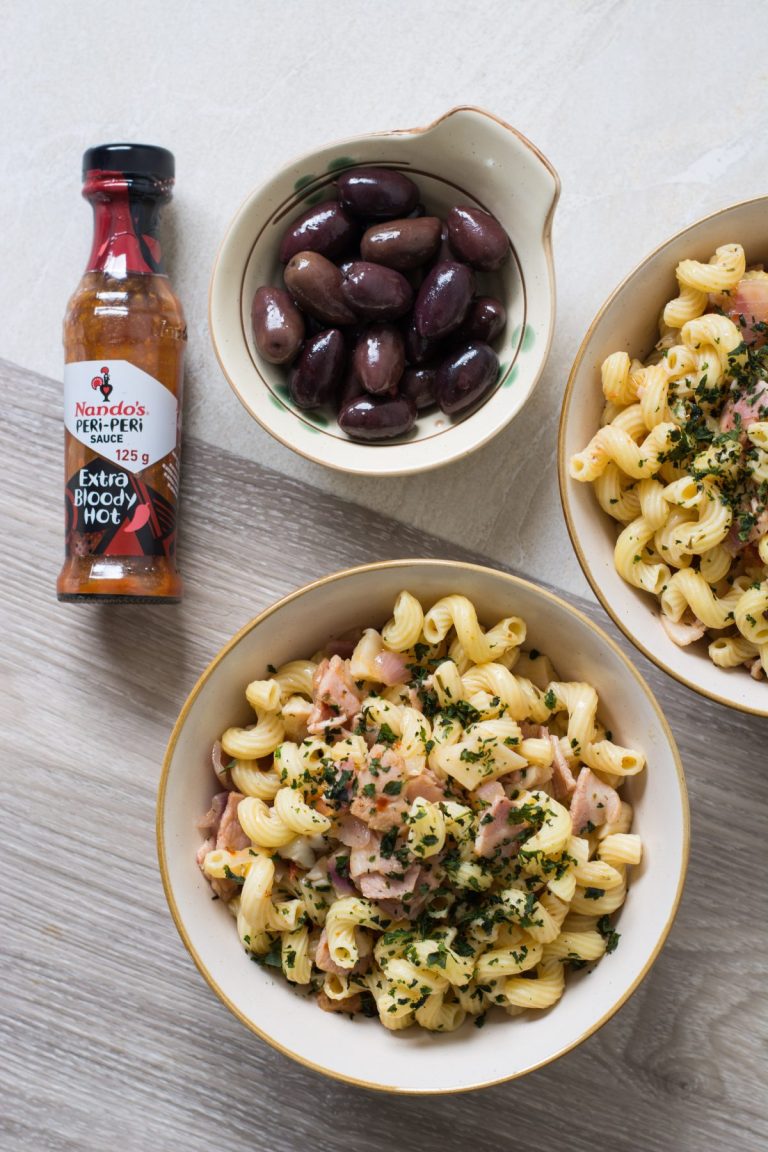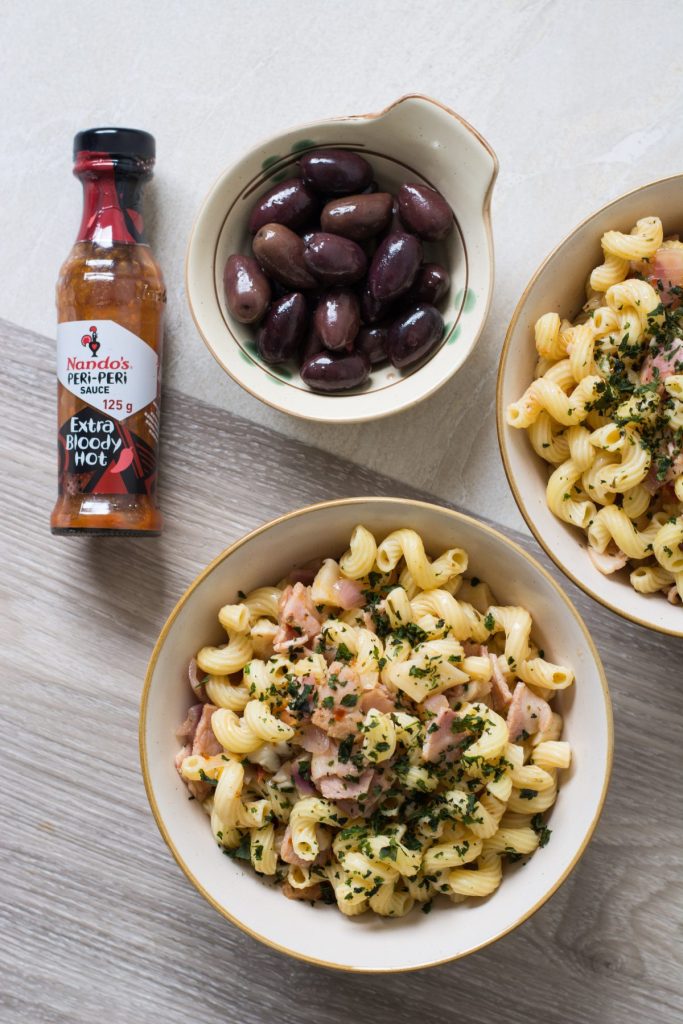 I have fallen in love with the Nando's peri-peri sauces! Now that's an understatement – it is more like an obsession, wanting to add the different sauces to just about anything I cook.

The first time I tasted Nando's was after coming to Australia. But later got to hear that a Nando's outlet opened in Chennai (Tamil Nadu, India) for the first time the month we flew to Oz land. Of all the different dishes that I have tasted in Nando's, my all-time favourite is the corn on the cob smothered with the hot peri-peri sauce. Spicy sweetness in one bite – touching heaven's doors! (as one of my classmates would put it)

Now, my pantry is always stocked with the different peri-peri sauces which I use to re-create many traditional meat dishes. Here I went overboard and used it to make this Peri Peri Pasta. This is not one for the mild-hearted; it is spicy but not overpowering to burn your taste buds. Bacon and oyster mushrooms were a good choice as both are meaty and great for soaking up the sauce.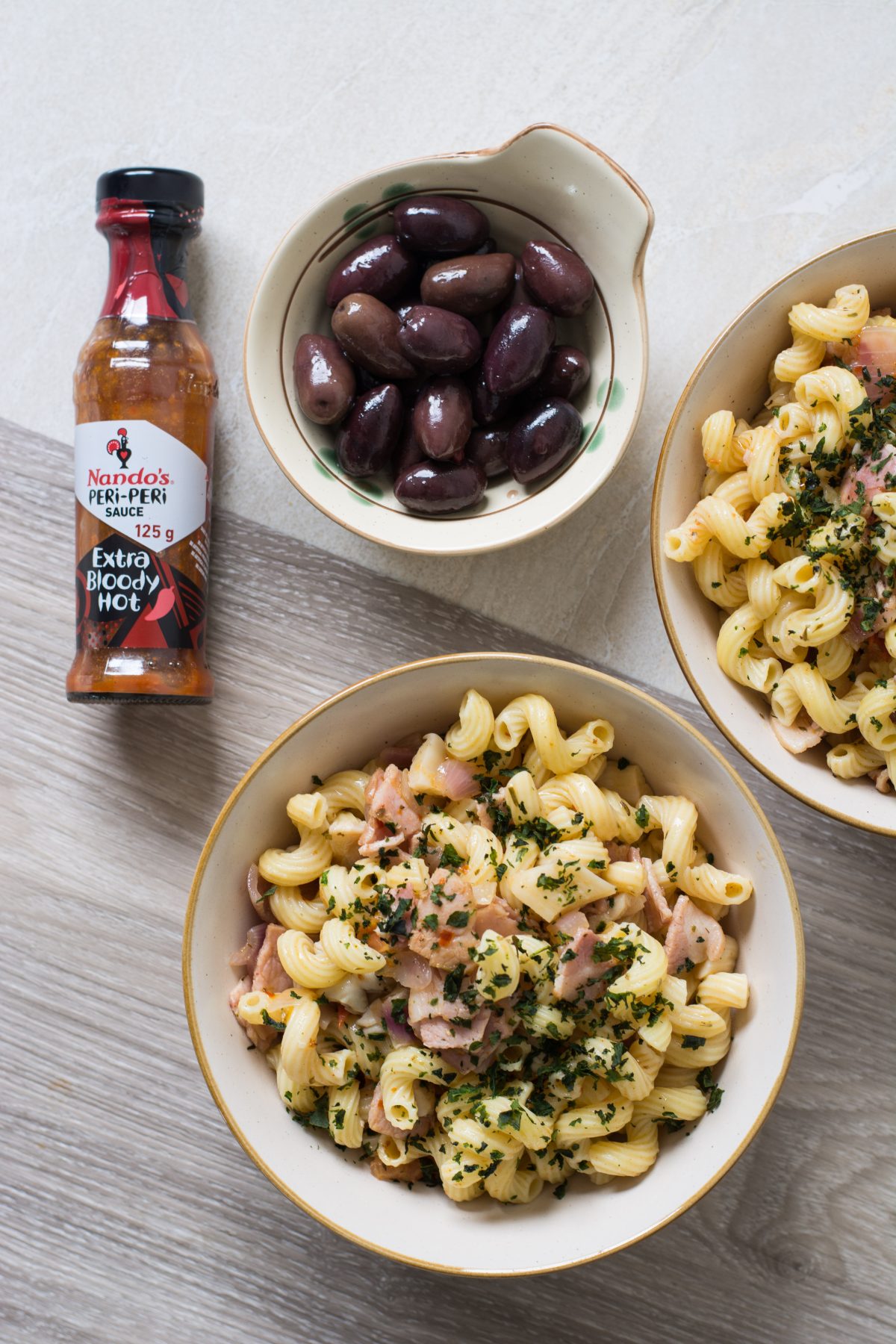 Here are five easy pasta recipes that are brilliant to feed the family on busy worknights…
Pasta with Spinach and Goat's Cheese
Pasta with Kale, Bacon, Mushrooms
Pasta Fantastico with Prawns, Snow Peas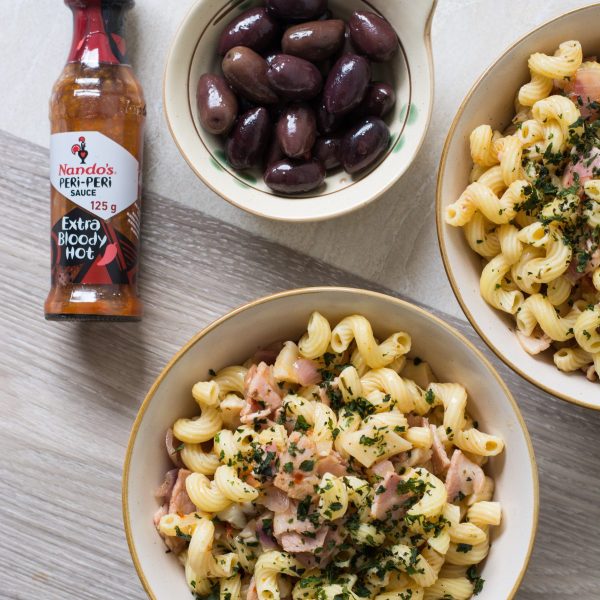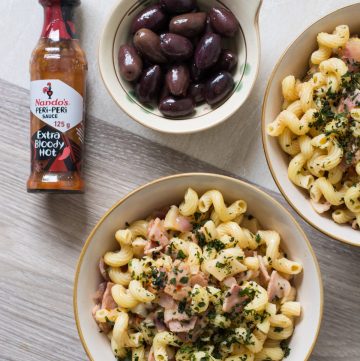 Print Recipe
Peri-peri Pasta (with bacon and oyster mushrooms)
Ingredients
Pasta

any type – 2 cups

Oyster mushrooms – 1 cup

diced

Bacon – 6 rashers

cut into small pieces

Red onion – 1 small

diced

Tomato – 1 small

deseeded, diced

Basil – 4-5 leaves

Nando's hot peri-peri sauce – to individual preferences

Salt – to taste

Olive oil – 4-5 tbsp

Dried basil – for garnish
Instructions
Cook pasta in salted boiling water, drain and keep aside.

In a pan, heat olive oil and fry the bacon. Add diced onions and sauté on high heat.

Next, add oyster mushrooms and sauté till soft.

Add tomatoes, season with salt and toss well to combine.

Next add the peri-peri sauce and the pasta; toss again to combine well.

Serve warm garnished with dried basil.