A dish from my childhood, this Indian style sausage curry was a staple while growing up. A comfort dish that's super delicious, easy to make and has now become a favourite with my son too.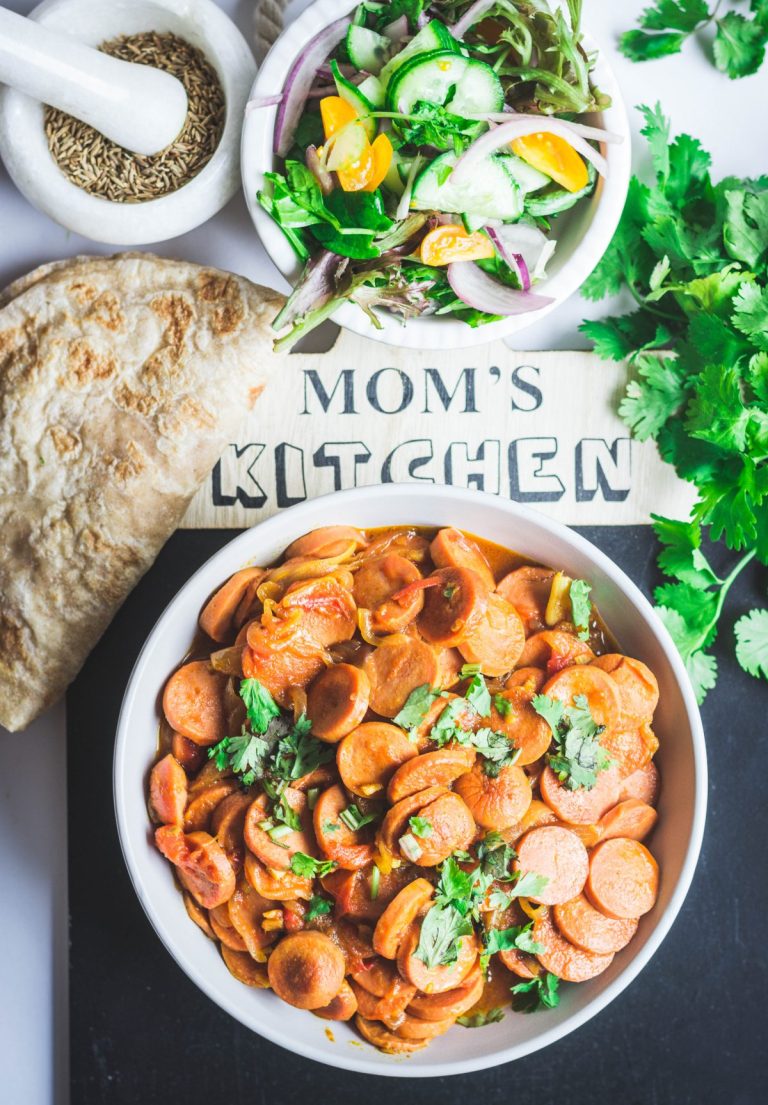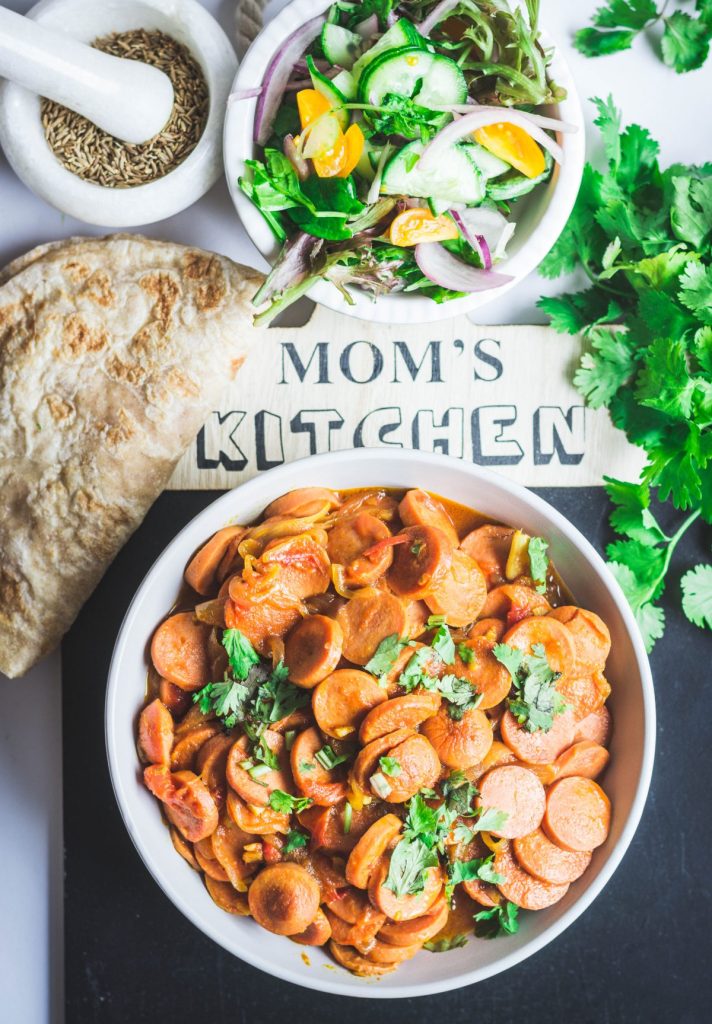 Often people ask me the question, 'who is your biggest inspiration to cook?' And I have always answered blindly – my mom. The truth is that I have never really sat down and thought about it. But finally I did and the answers surprised me.

My biggest inspiration to cook comes from myself. My mom has never directly influenced me to cook, let alone get into the kitchen. She grew up as a tomboy and got into cooking only after marriage. And everything she has learnt since is self-taught. She never turned to her own mum for culinary advice nor did she have a mother-in-law in her new home. And so she believes that no one needs to be taught cooking – you learn it when you have to cook and if you have the passion for it.

Having said that, my talent for cooking comes from my mother. It is purely genetic and all who have sampled my mum's cooking will completely agree to this. In fact, my entire creative gene comes from my mother. Like I already mentioned my mum is a completely self-taught woman, a hardworking, courageous woman who might not have gone to college but can easily hold a conversation with anyone on any subject. Her desire and quest for knowledge is infectious – the singular trait that she has always tried to instill in her daughters. She taught us to be strong, be confident, be proud of being a woman and never take 'no' for an answer.

And now when I have started a food blog, I know she secretly feels proud of it. She does not understand blogging and its technicalities but she is super proud that her daughter is doing something creative and letting the world see her talents. But I also hear and feel the twinge of regret in her voice that she has never been able to take her talent (which is so much more than what I have) to the world and achieve something of her own. And even though I know she will never read this blog post, I still want to tell her that all I know about cooking or understanding flavours come from you, albeit indirectly, for you have always paved the way for me, pushed boundaries and I will always be proud to say, 'my cooking journey began as your little assistant.'

My mom hates posing for photographs and I have very few with her and this one is most precious of all….on my wedding day just before entering church. A priceless moment for me!

Hence today's dish had to be something from my childhood. It is an Indian style sausage curry that my mum used to make often while we lived in the Middle East.

Frozen sausages were commonly available in those days but it was a totally foreign ingredient for my mum and she came up with this Indian style curry using sausages which goes amazingly well with hot phulkas. I have lost count of the number of people who has learnt this dish from her including her own daughters.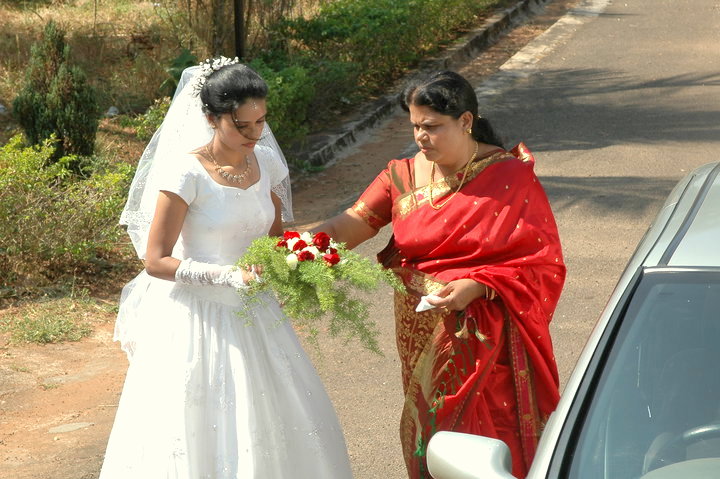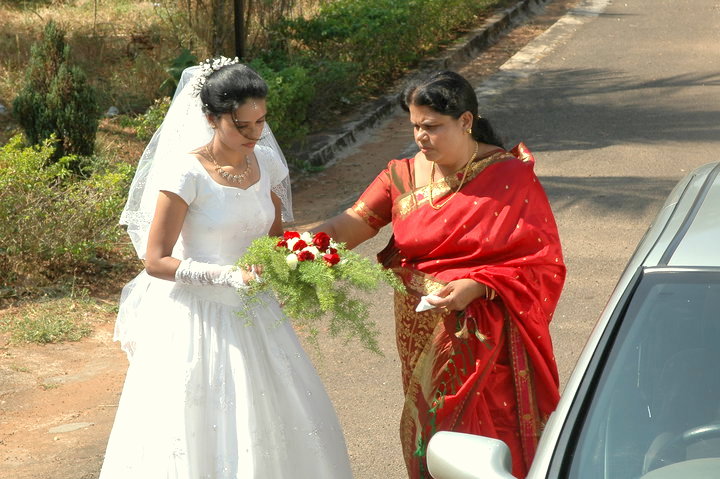 You can use any type of sausage that you want but it's the skinless hot dogs that work best for this dish. If you are using flavoured ones, then remember that it adds to the flavour of the final dish so make sure that you pair the spices accordingly. Though we usually have this curry with Indian breads like phulkas/chappathis, I did try it out as a sandwich filling and the result was lip smacking.

So here's the recipe for an Indian style sausage curry; classic Indian flavours of sweet, spicy and aromatic.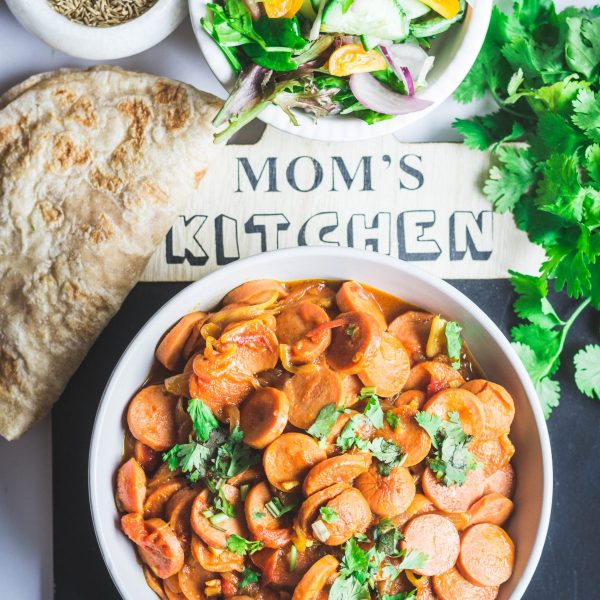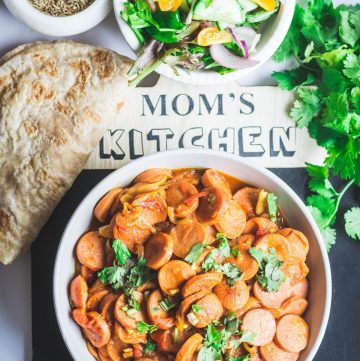 Print Recipe
Indian style Sausage Curry
Ingredients
Skinless hot dogs/sausages – 8

Spanish onion – 3

finely sliced

Garlic – 2 cloves

crushed

Ginger – ½ inch

grated

Curry leaves – 1-2 sprigs

Ripe red tomato – 2 large

finely sliced

Turmeric powder – ½ tsp

Red chilli powder – 1 tsp

Coriander powder – 1 tsp

Cumin powder – ½ tsp

Salt – to season

Vegetable oil – to shallow fry sausages

Fresh coriander leaves – 3 tbsp

finely chopped
Instructions
Slice the sausage into medium sized pieces (round pieces); heat 2-3 tbsp oil in a pan and lightly fry the sausages. Keep aside.

In the same pan, heat more vegetable oil (if necessary) and add the sliced onions. Saute for 5 minutes.

Add the ginger, garlic, curry leaves and sauté till the onions are light brown.

Once browned, add the spice powders and sauté for another minute on low heat.

Add the tomatoes and sauté till a mushy consistency is reached.

Add ½ cup water, bring to boil and season with salt. Remember that sausages have salt in it so add accordingly.

Add the sausages and cook on medium heat till done. Garnish with coriander leaves.