A delicious and traditional Cambodian chicken curry perfect with steamed white rice. It's soupy, creamy from the coconut milk and the use of unique spices, herbs and aromatics like lemongrass, shrimp paste etc… makes this a must try curry.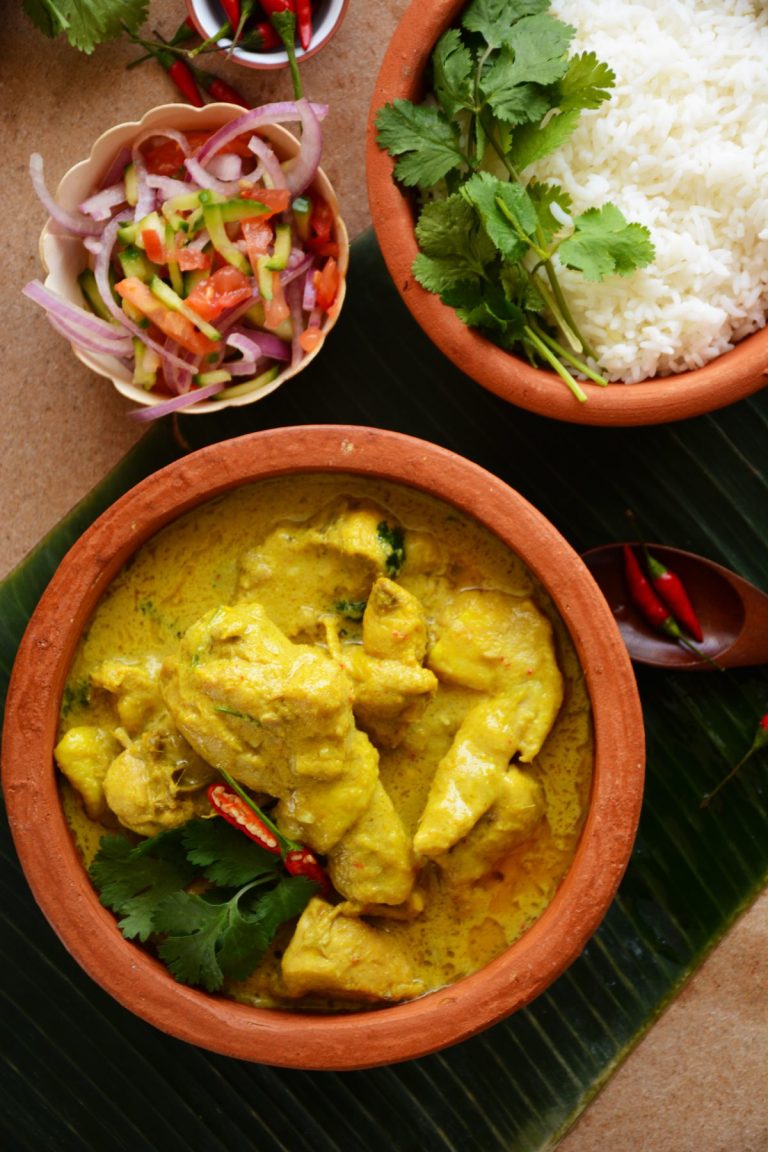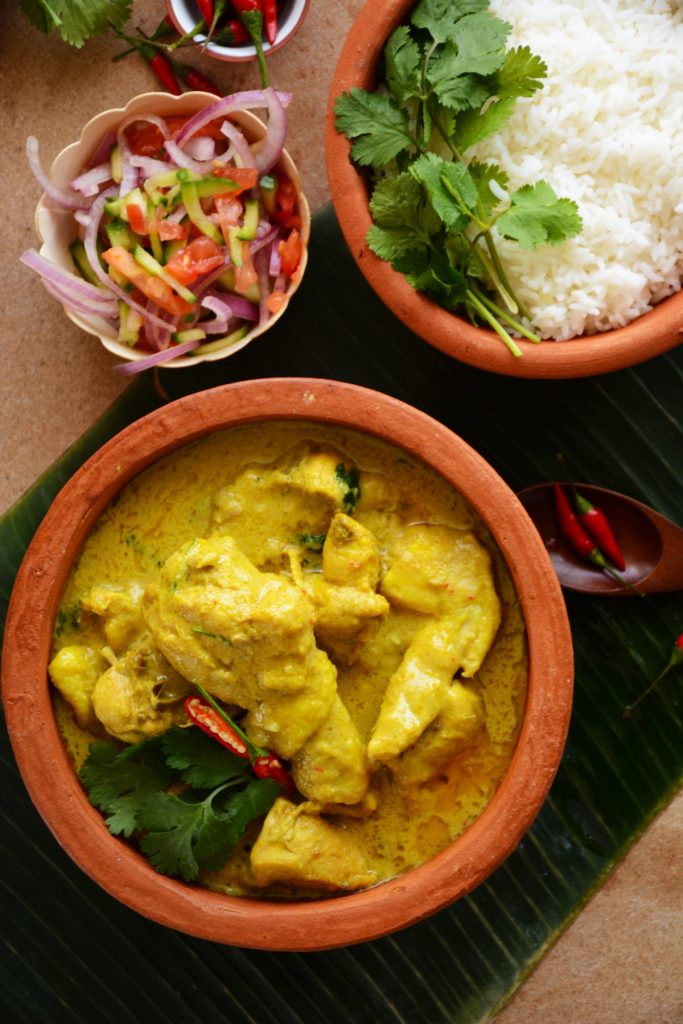 I have been quite ignorant about Cambodian or Khmer cuisine till very recently. Somehow the cuisine of this tiny country never featured in my vast list of Asian cooking.

When we have never travelled to or know much about a region, we often make the mistake of generalizing the cuisine of that land. I made the same mistake too of generalizing Cambodian cuisine with its Thai and Malaysian counterparts. But as I am learning (more frequently these days), that is not true. Just like the cuisine of India or for that matter, any other large country or continent, the cuisine of a region can vary widely from its neighbouring lands inspite of using similar ingredients.

So my first brush with Khmer cuisine happened via a friend and avid travel blogger Svetlana of Maverickbird. This girl has travelled around the world (mostly solo!) and if you are nurturing the travel bug within you, then you must check out her blog.

The last time she was in Cambodia, she decided to attend a Khmer cooking class. Now Svetlana is a big fan of eating but not really of cooking and apart from having a great culinary experience, she enrolled in the class so that she can get me some authentic traditional recipes from the region, like this Cambodian chicken curry. Well, what can I say about such friends except that I am damn lucky!

Are you planning to travel to Cambodia or want to know more about Khmer food? Then check out Svetlana's article.

I will have to be content with just cooking Khmer food for now since travel is not on the cards yet. But the most awesome aspect of living in Australia (yes, I have said this before) is the availability of most ingredients that enables me to recreate most of these recipes at home.

So today, I am going to teach you a classic dish from the region – Cambodian Chicken Curry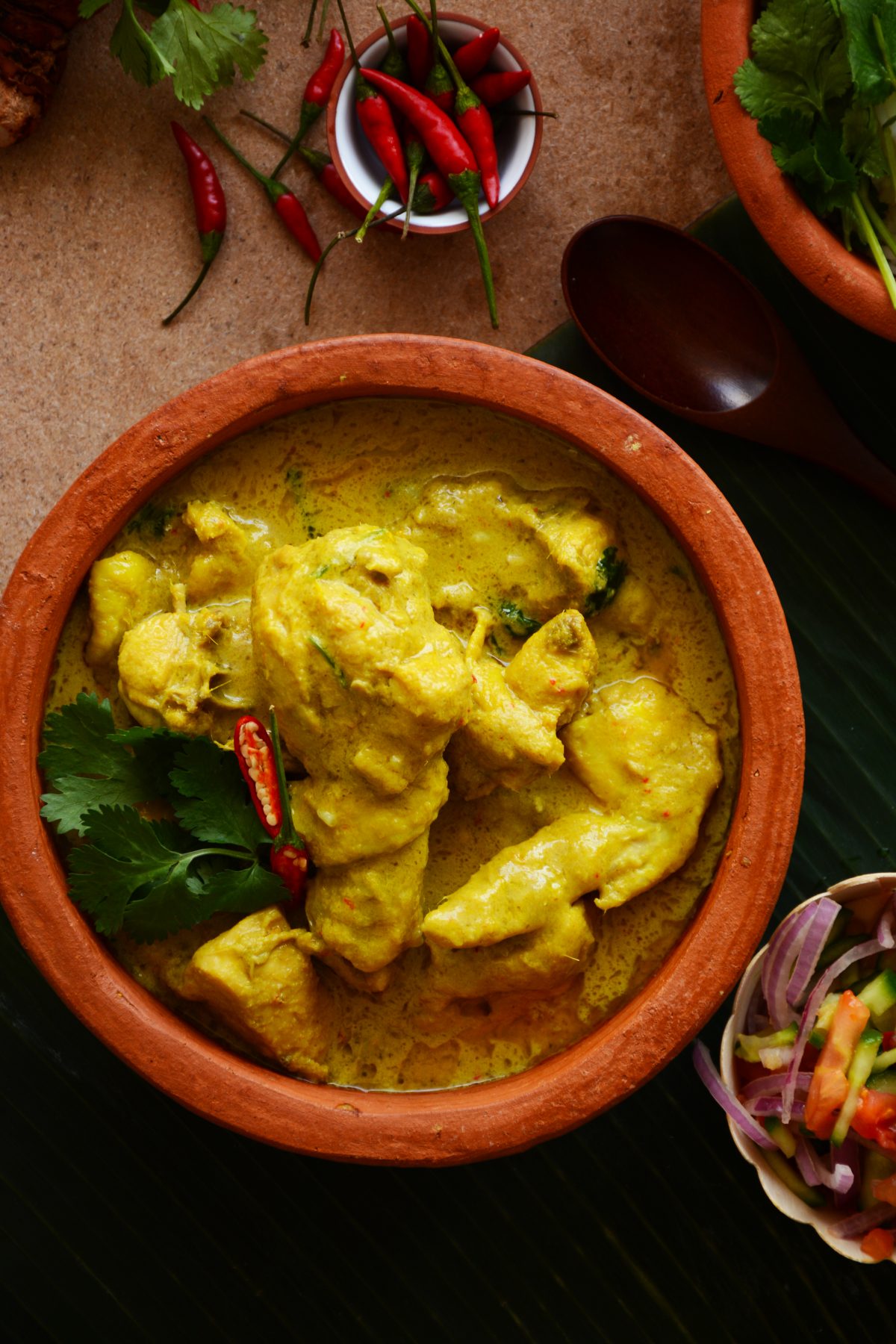 Some of the ingredients that are central to Khmer cooking are lemongrass, wild lime/kaffir lime, pepper, shallots, coconut, galangal, thai red chillies etc…. Like I mentioned before, all of these are central to many other Asian cuisines also but it is the way these ingredients are bought together that makes the cuisine of Cambodia unique.

The Cambodian chicken curry is basically a soupy kind of curry and one that is found quite commonly in Cambodia. It is either served as a soup or as a stew poured over rice. The thick, soupy coconut milk broth is what makes a Samlá stand out. It strongly reminds you of the Thai yellow curry but the flavours are different.

Lemongrass is the key ingredient in this curry and the primary flavour and aroma that greets you. I have made a few modifications to the recipe in terms of ingredients and measurements to suit my preferences which I think is important to make any dish a pleasurable experience for you. Instead of dry Thai chillies, I have used fresh ones and also more than what the traditional recipe calls for. It does not make the dish hot or spicy but adds more depth and flavour to match the sweet richness of the coconut milk.

Shrimp paste is another key ingredient of this dish and I know your whole neighbourhood will smell it too. You could omit it but then you won't be getting the real deal. But yes…the smell!!!

It is the unique blend of spices and aromatics (traditionally called the kroueng) that forms the base of this Cambodian chicken curry. The flavours are created here; you could choose to pound away in a mortar and pestle if you have the time and patience (a great stress busting exercise too) or a grinder will do the job in a fraction of the time. And since you will be spending a certain amount of time making this, I strongly recommend making a large batch and freezing in portions for quick weekday meals. I mean making everytime from scratch is great, but who really has the time anymore.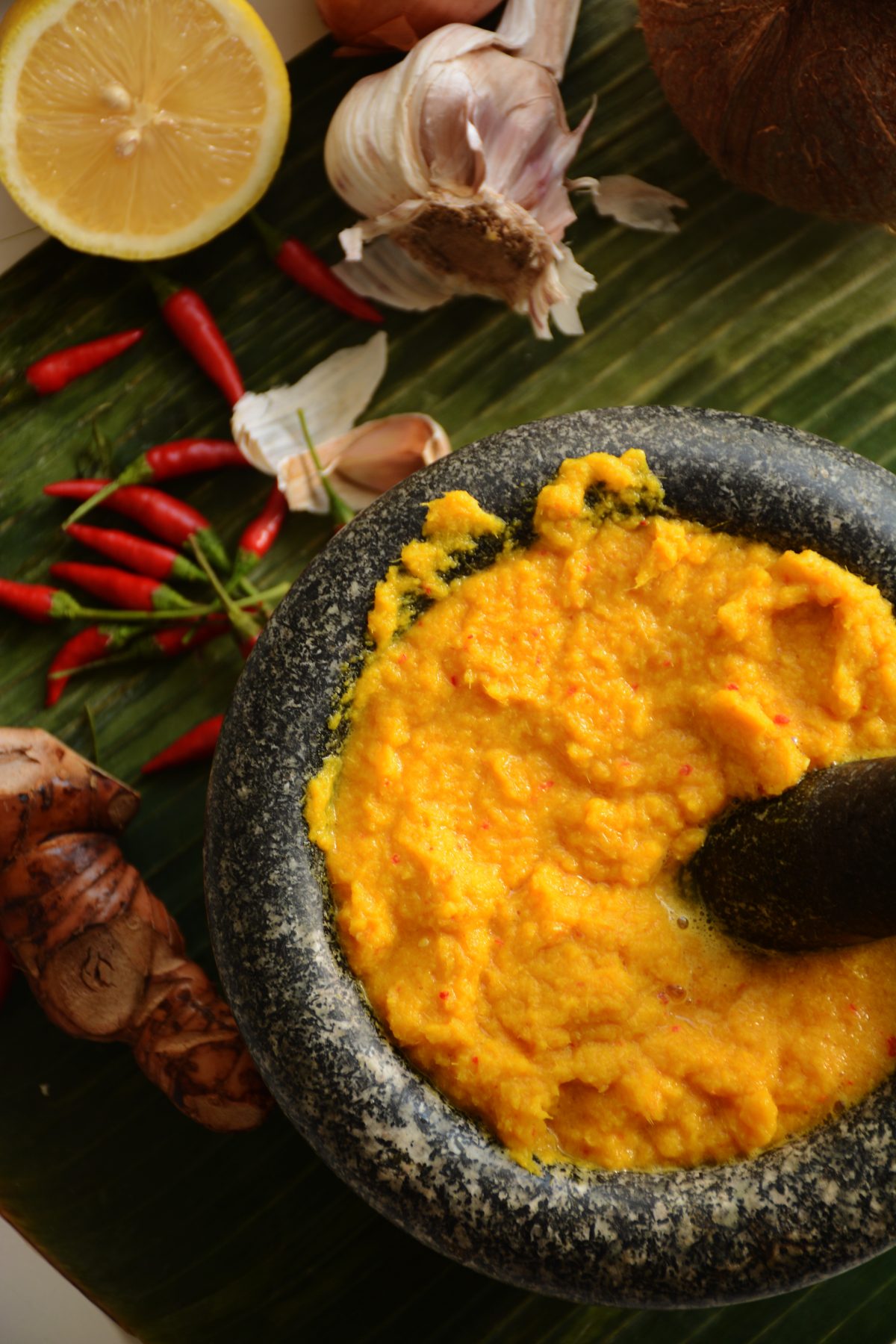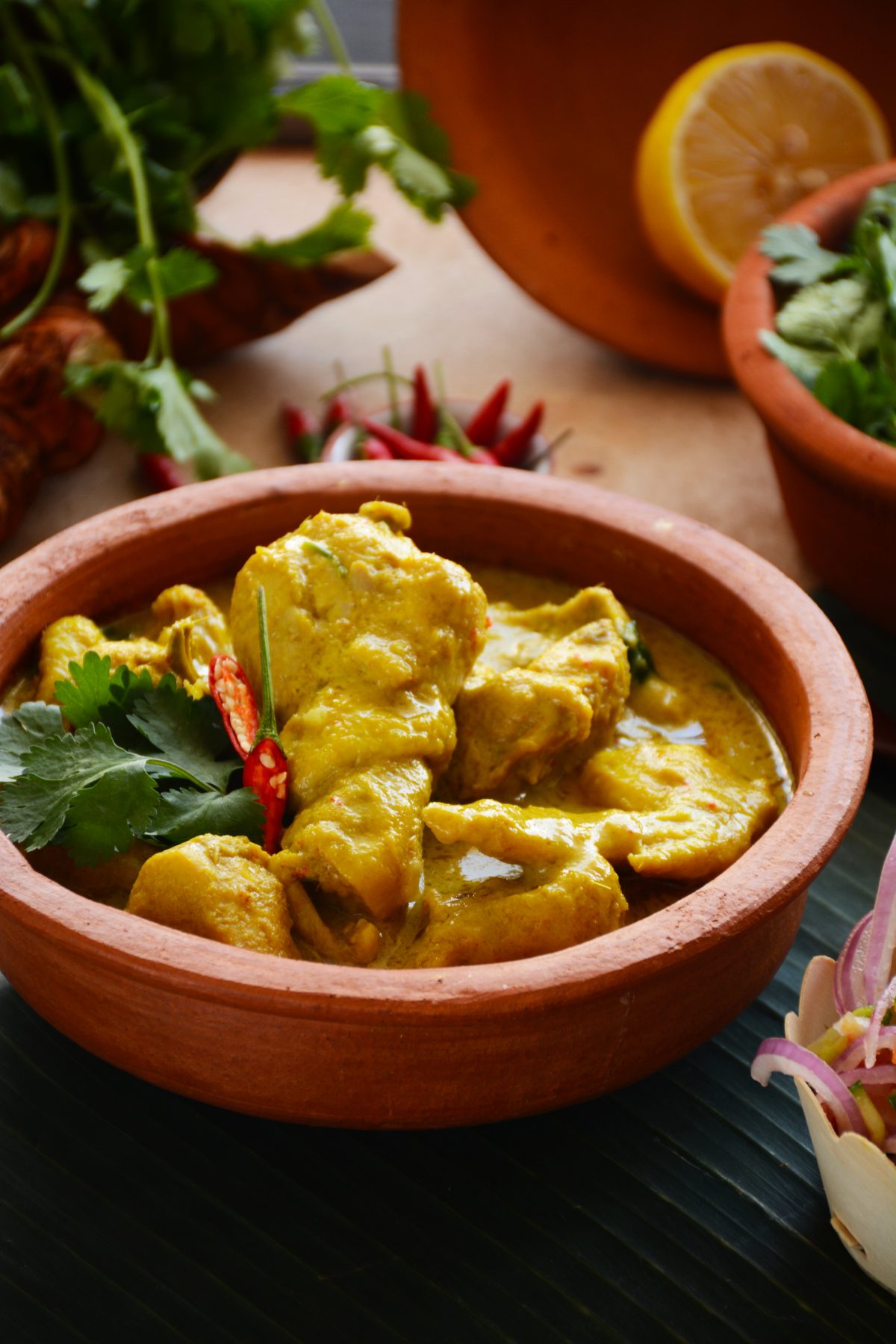 Enough talking; let's go ahead and re-create this deliciously creamy, highly aromatic and fragrant Cambodian Chicken Curry. And if you happen to try it out, make sure you tag me #thespiceadventuress in your social media posts so that I may see it too.
If you are a chicken fan, then do check out these three delicious dishes…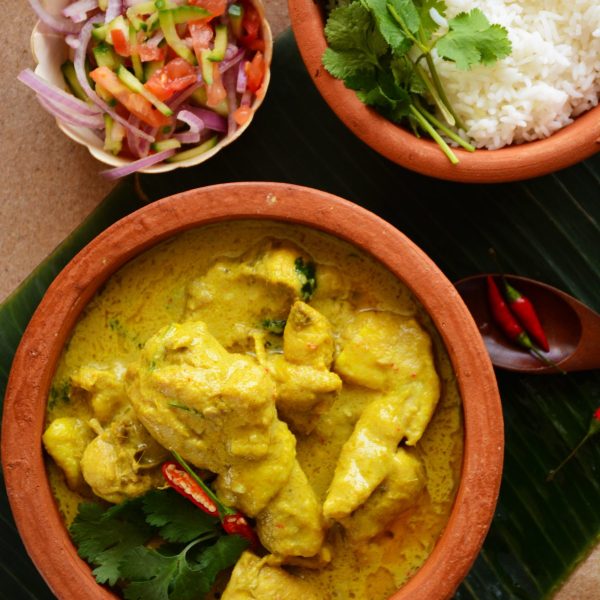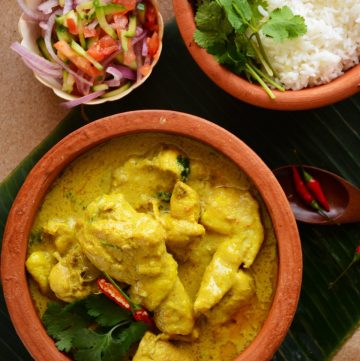 Print Recipe
Cambodian Chicken Samla Curry
Ingredients
1

whole chicken

approx 1.2 kg; cut into medium sized pieces

3-4

lemongrass stalks

1

tbsp

lemon flesh

1

tsp

turmeric powder

3

tbsp

chopped galangal

6

large shallots; coarsely chopped

6

large garlic; chopped

8

fresh Thai red chillies

1 ½

tbsp

shrimp paste

2

cups

thin coconut milk

1

cup

thick coconut milk

3-4

tbsp

vegetable oil

Salt

to season

½

tsp

sugar
Instructions
To prep the lemongrass, cut off the tough and dry roots and top ends. Peel off the outer tough layers and use only the soft part of the stalk. You will need approximately 3-4 stalks (depending on the freshness) to get about 1 ¼ cups of chopped lemongrass.

If using a blender, place all the ingredients from 2-8 and grind to a fine paste. If you are using a mortar and pestle, then add each ingredient, crush well and then follow with the next ingredient till the whole mixture comes together to a fine paste like texture. If you have a small mortar and pestle, then you can grind the ingredients in separate batches and then finally mix all together in a bowl.

Place the shrimp paste on a piece of aluminium foil; spread it out evenly and then fold the foil into a small packet. Place on a medium hot tawa or pan for 2-3 minutes, turn over and heat for another 2-3 minutes. Remove from heat, open the packet and crumble the shrimp paste into the prepared curry paste and mix together.

Heat the oil in a deep pan; add the curry paste and cook on low heat till the rawness of the ingredients goes away and oil begins to separate from the curry paste. This will take at least 8-10 minutes and sometimes more. But this is the step that is most crucial to the flavour of the overall dish so be patient and let the heat do its job.

Next add the chicken pieces and cook on medium heat for about 6-7 minutes without adding any water or coconut milk. Take care to stir at constant intervals so that the spice paste does not get burnt or stick to the bottom of the pan.

Add the thin coconut milk, season with salt and add sugar; cook on medium heat till the chicken has become tender.

Then add the thick coconut milk and cook for another 5 minutes; remove from heat.

Serve warm with rice and garnish with coriander leaves.
Notes
The proportion of all the spices and aromatics is approximate and should be adjusted according to the size and freshness of the ingredients and also your taste preferences.
If you want the dish to be more soupy, you may add more coconut milk.
You may also add vegetables to this dish.