Based on Ayurvedic principles, The Yogic Kitchen explores the philosophy of 'food is medicine' at a much deeper and scientific level.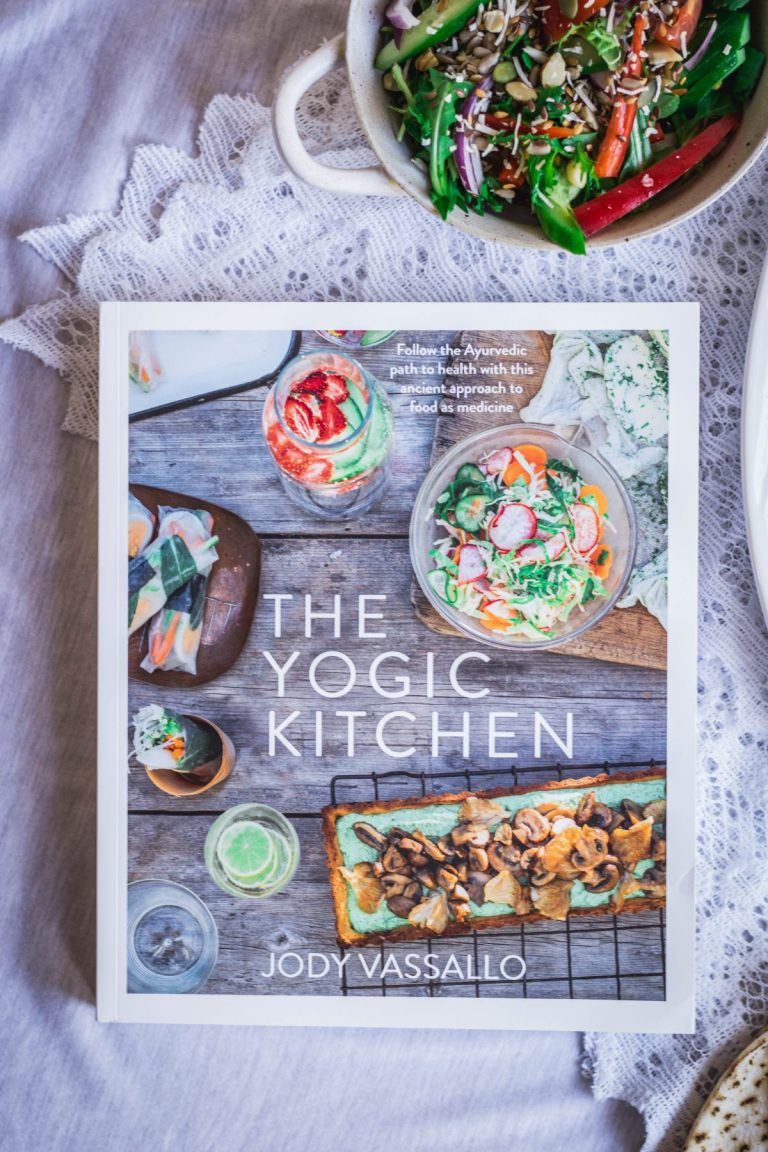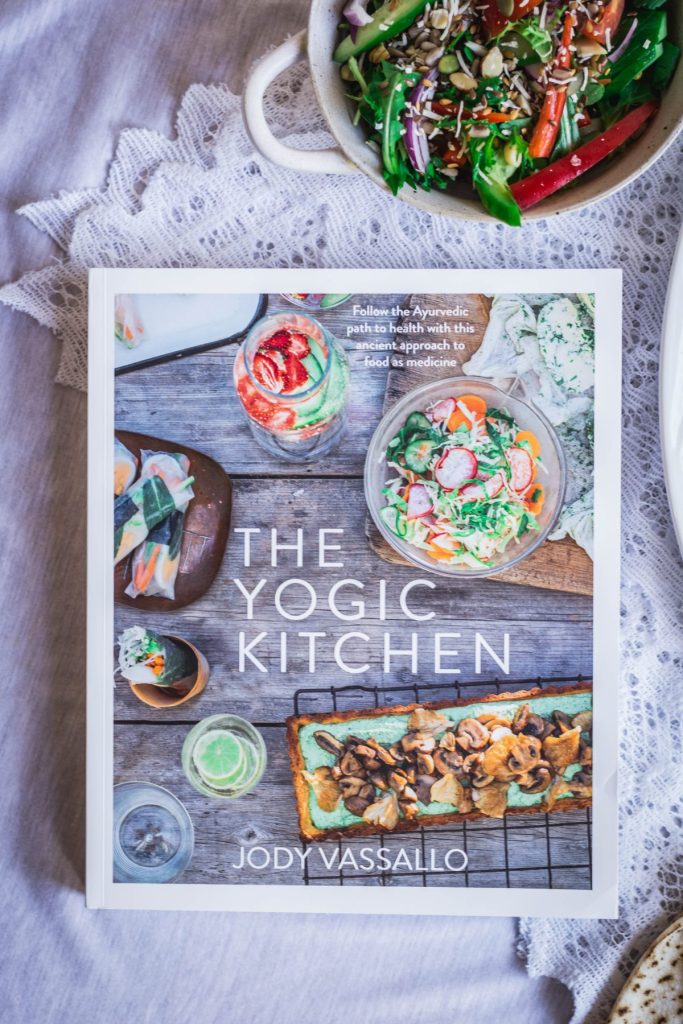 I am a firm believer in the philosophy that 'Food is Medicine.'

In fact if you talk to me about regular ailments, I am more likely to advise you on dietary and lifestyle changes than go visit a doctor. I am not at all taking away the importance of medical science but I tend to gravitate towards eating right and practicing natural medicine and holistic healing generally.

The Yogic Kitchen by Jody Vassallo (HQ Non Fiction, $39.99) corroborates with this philosophy completely.

Jody is a food writer, stylist, yoga teacher and Ayurvedic health coach. I have personally followed her work for a while and she has published and authored several books for Marie Claire, Hachette Livre etc….

The Yogic Kitchen offers us an insight into understanding our body through the Ayurvedic principles of Vata, Pitta and Kapha. Even though I have heard much about these principles, I admit that I didn't have a proper understanding of it till now.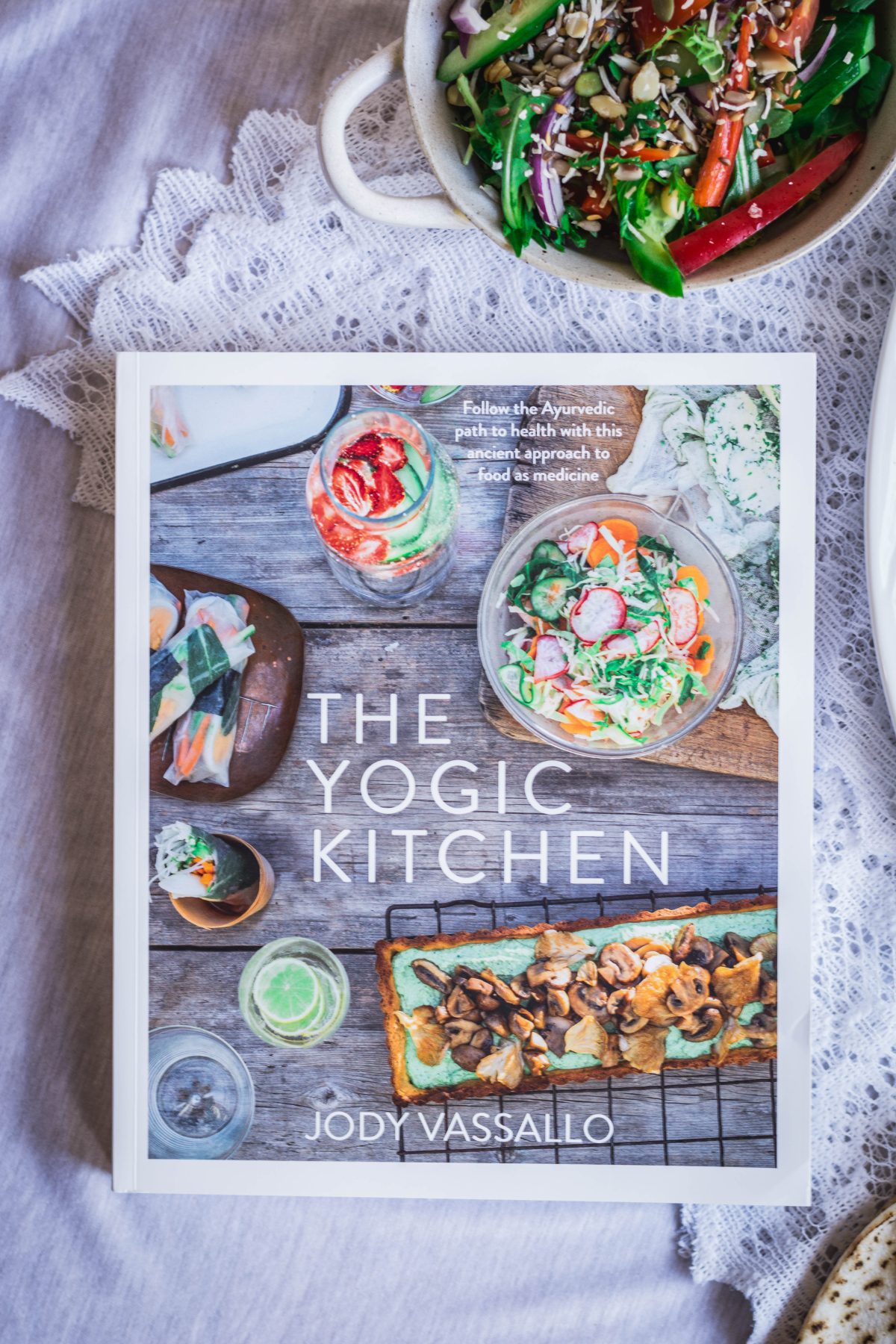 Ayurveda and Food:
Based on Ayurvedic principles, the book explores the philosophy of 'food is medicine' at a much deeper and scientific level. This is not a regular cookbook filled with just recipes and amazing photographs.

The Yogic Kitchen starts with an introduction to Ayurveda; a brief history followed by the scientific principles that form the foundation of this ancient science. According to Ayurveda, the five elements of earth, fire, water, air and space exist inside out bodies as much as outside. These exist in varying degrees and in turn make up the three doshas – Vata, Pitta and Kapha. And these doshas are used to represent our unique body constitution.

So the first thing is to identify which is your dosha.

The book provides an extensive classification of the three doshas based on which you can find out which one do you identify with most. Sometimes you could be a mix of two or even all the three doshas. I found out that I am mostly Vata but with a small percentage of Pitta thrown in.

From yoga to Ayurveda, Jody also explains how she embarked on this journey and the positive changes it has bought about to her health and overall life. Often we tend to forget that our mind and bodies are intertwined and the food we eat has the power to affect not just our physical but our mental self too.

The Yogic Kitchen also provides extensive information on how to balance the doshas, food that are compatible for each dosha, foods and habits to avoid that can cause imbalance etc….

The recipes outlined in the book are also divided into three based on the doshas and also based on the seasons as this is an important factor that affects our bodies. Apart from these, there are also recipes that are suitable for all types of doshas and also foods that are best for a detoxification/cleanse diet.

Jody also outlines a variety of herbal teas and medicated milks suitable for the different doshas, spices and herbs that are integral to Ayurvedic cooking. There is also an extensive list of food types that are suitable and not suitable for each dosha provided based on which you can regulate your daily diet.

What I liked best about the recipes outlined in The Yogic Kitchen is the fact that there's nothing exotic but easy everyday cooking, perhaps with a different mindset. And I also liked the fact that there are options for breakfast, lunch, dinner and desserts.

There's often a misconception that recipes that focus on Ayurvedic philosophies should be Indian cuisine based but that's not too true at all. Ayurveda is a science, which can be implemented in all kinds of cooking.

One of the recipes that I tried from this book is the Marinated chicken with Coconut Lime dressing.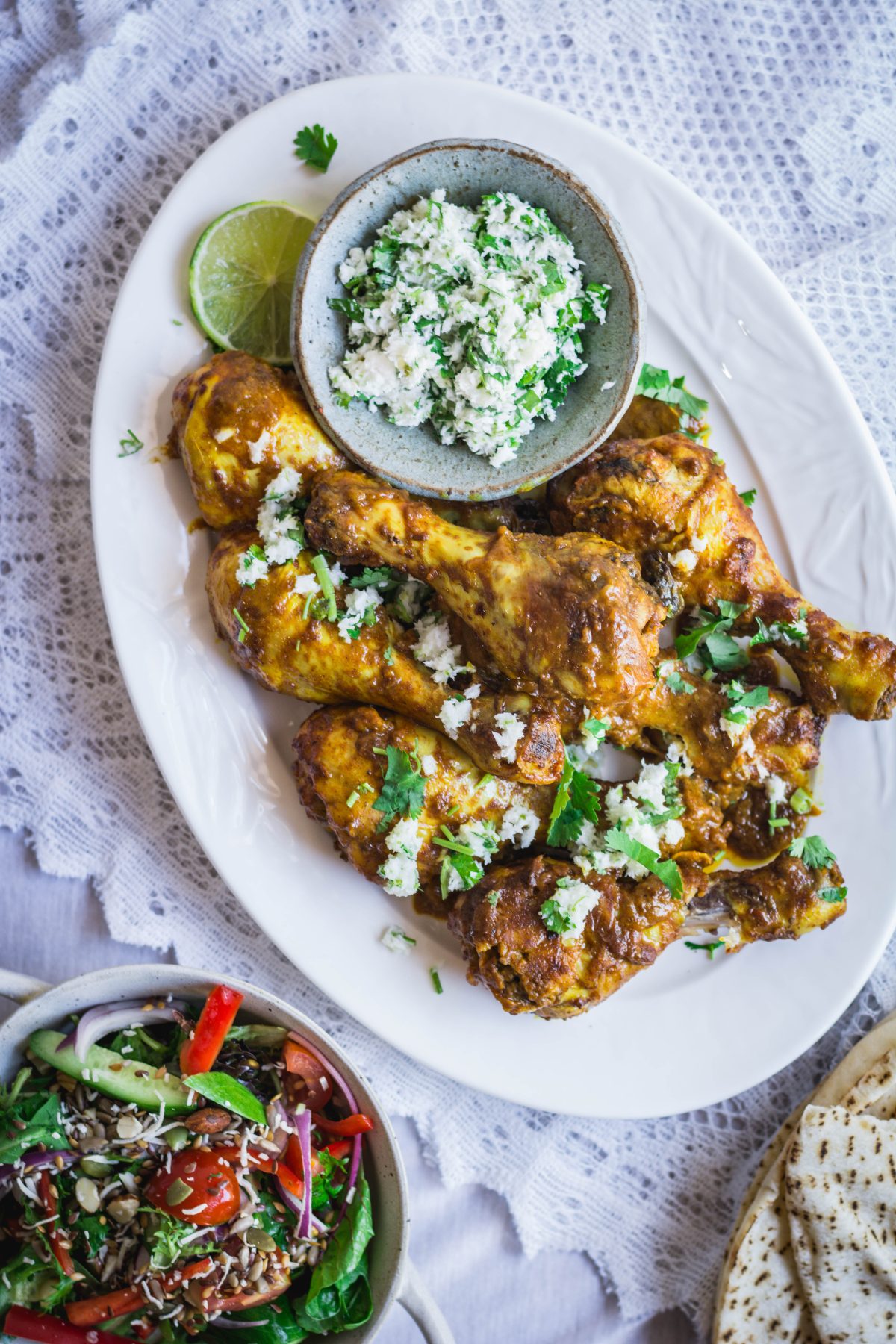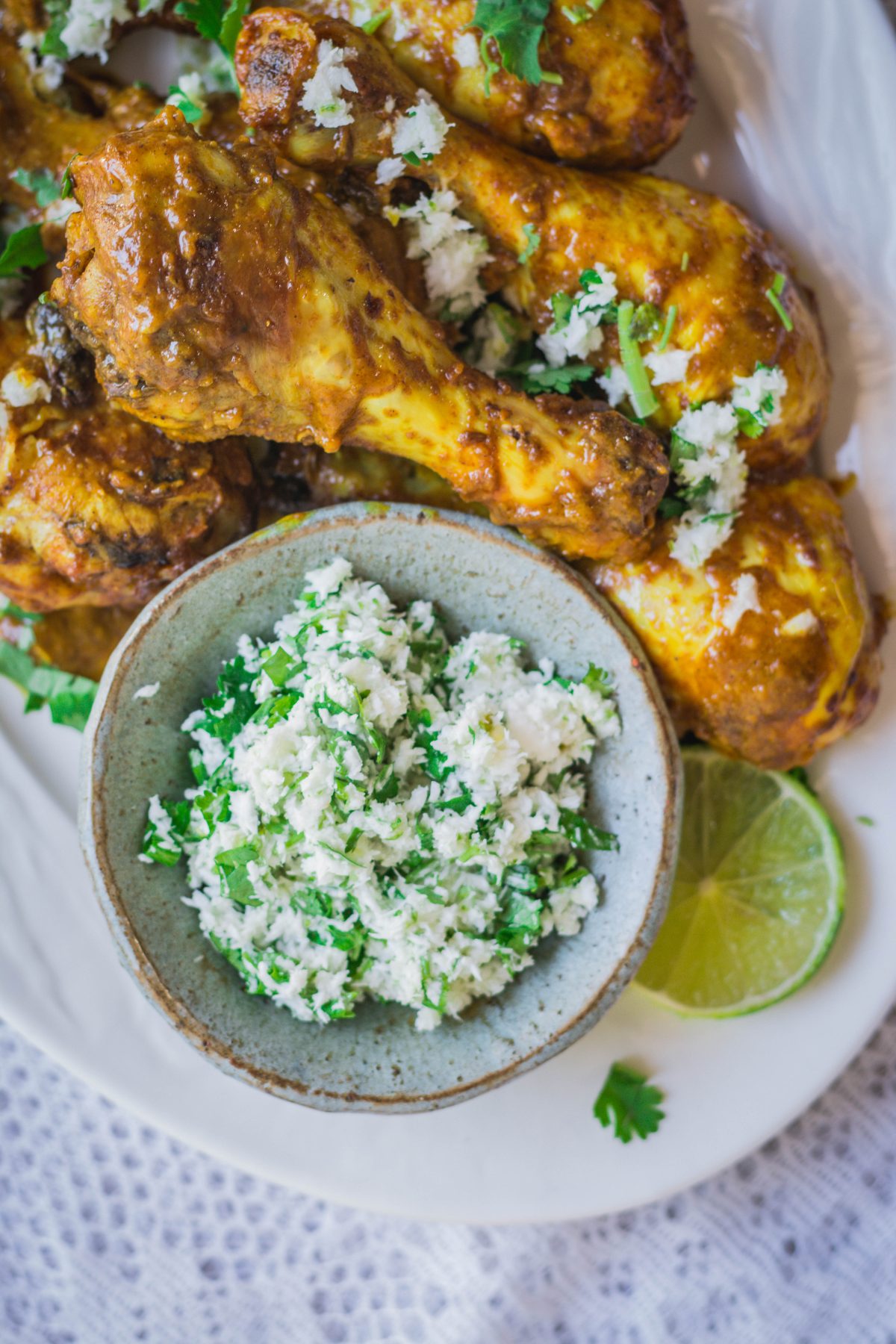 The two things that stood out in this recipe from The Yogic Kitchen are the simplicity and ease of making the dish and the coconut lime dressing. That dressing is just mind-blowing spectacular and some days, I have been making just that for my salads.

It's a perfect dinner dish for the whole family and one I can prep for ahead of time which means after a work day, dinner is ready with minimal effort and fuss without sacrificing at all on the health or delicious quotient.

I have tweaked the recipe slightly to suit individual preferences, which you should too especially based on the amount of chicken that you would use. While drumsticks are used in this recipe and provides maximum flavour, other cuts of chicken would be good too provided it's on the bone. And instead of coconut sugar used in the original recipe, I used jaggery since that was available.

So let's get to the recipe for Marinated Chicken with Coconut Lime dressing.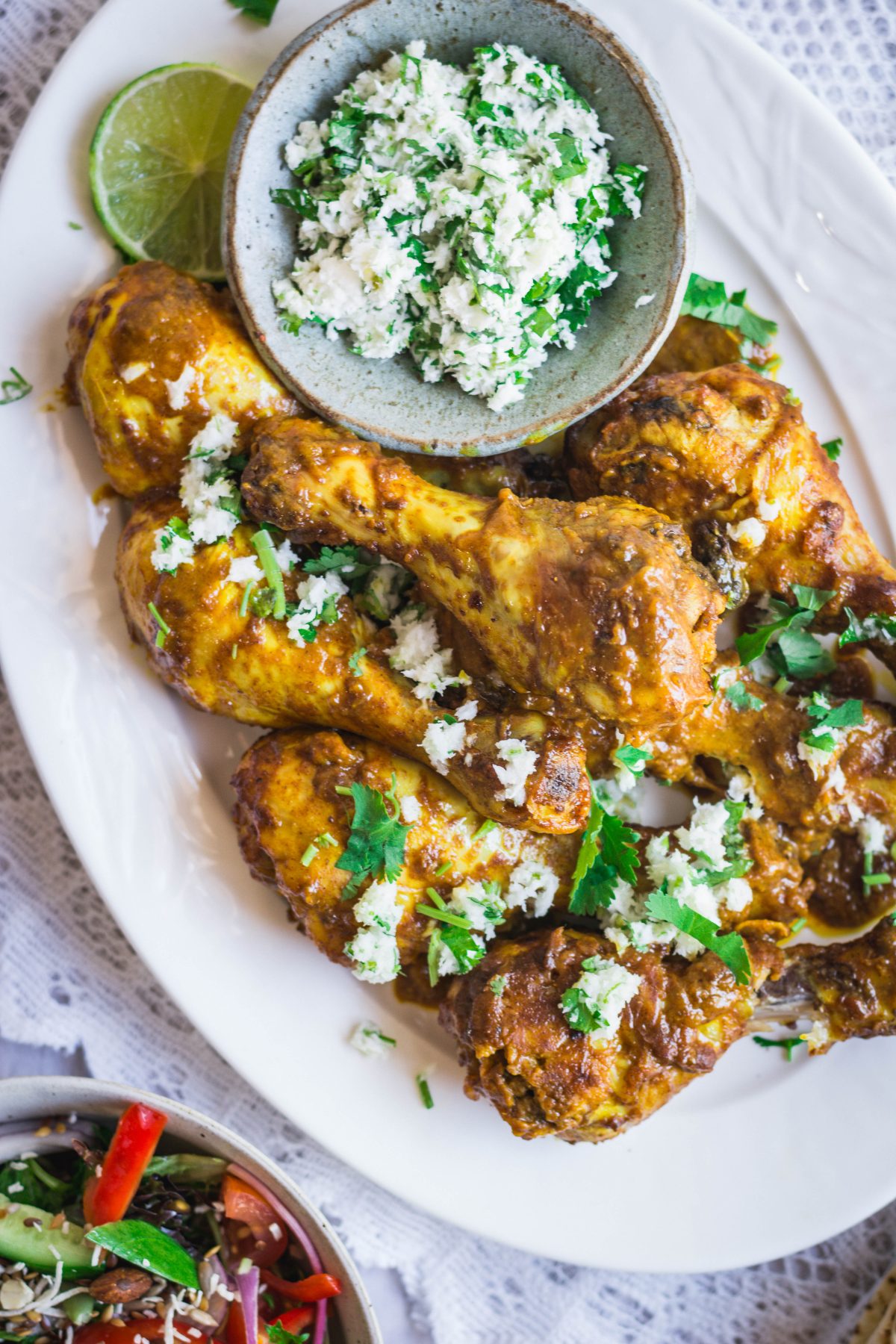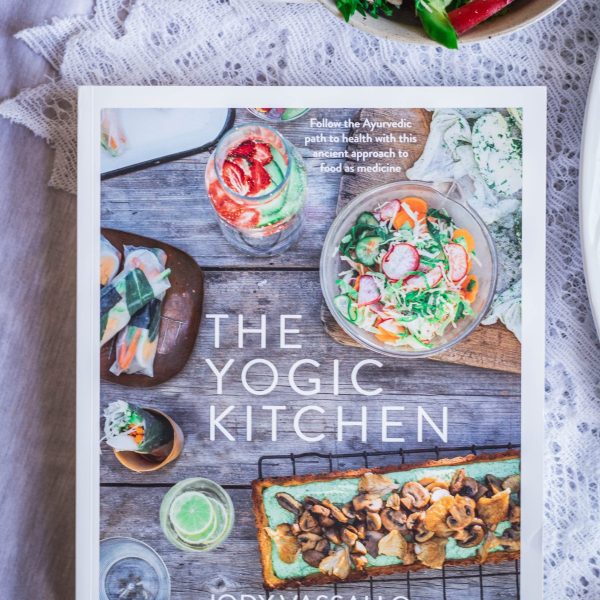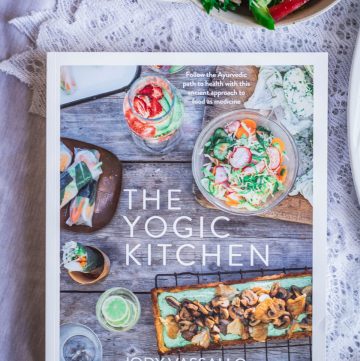 Print Recipe
Marinated Chicken with Coconut Lime Dressing
Ingredients
1

kg

chicken drumsticks

1

tsp

turmeric powder

3

garlic cloves; grated

170

ml

coconut yoghurt

2

tsp

sweet paprika

1

tsp

coriander powder

1

tsp

cumin powder

1

tsp

garam masala

Salt

to season

1

small red onion; grated

Juice of ½ lemon
Coconut lime dressing:
2

tbsp

freshly grated coconut

desiccated may be used too

Zest and juice of 1 lime

1

tsp

crushed jaggery

or coconut sugar

1

small red chilli; finely chopped

2

tbsp

coriander leaves; finely chopped

3

tbsp

coconut oil

1

tbsp

water
Instructions
In a bowl, add the coconut yoghurt; grate the garlic, onion and add all the spice powders. Add the lemon juice and season with salt. Mix well and marinate the chicken drumsticks in this; refrigerate for at least 4 hours, overnight is preferable.

Bring the chicken drumsticks to room temperature at least 30 min before cooking.

Preheat the oven (fan forced) to 200°C

Line an oven proof tray with baking paper; place the drumsticks in the tray. Retain the remaining yoghurt mixture.

Cook the drumsticks for 40-50 minutes or until cooked through. Turning occasionally and rush with the remaining yoghurt mixture everytime the chicken is turned.

Meanwhile combine all the ingredients for the coconut lime dressing in a bowl; taste and adjust seasoning.

Serve the chicken drumsticks warm topped with the coconut lime dressing.