Winter has officially arrived!
Though I am not too fond of the cold, wet climate, I like winters because it gives me the perfect ruse to be lazy and slouchy. I can blame the weather….
for the innumerable cups of coffee I drink to get through the day.
for sleeping in late most mornings and then rushing like crazy to get my son to school (oh I wish my parents would read this!)
for ordering takeaways; it's too cold to cook in the kitchen!
for not bothering with what I wear – anyway, who can see what I am wearing under these heavy jackets and sweaters.
and finally for clicking the crappiest photographs – 'how can I get a good photo without natural light?'
Oh I could go on…but you get it right, I can blame the weather for turning into one lazy, hibernous soul!
But when I do get into the mood for cooking, I like to make curries, stews, soups…anything that is warm and comforting. This Kerala style tomato curry is a perfect answer for my winter blues – mildly spiced, tangy, creamy and earthy!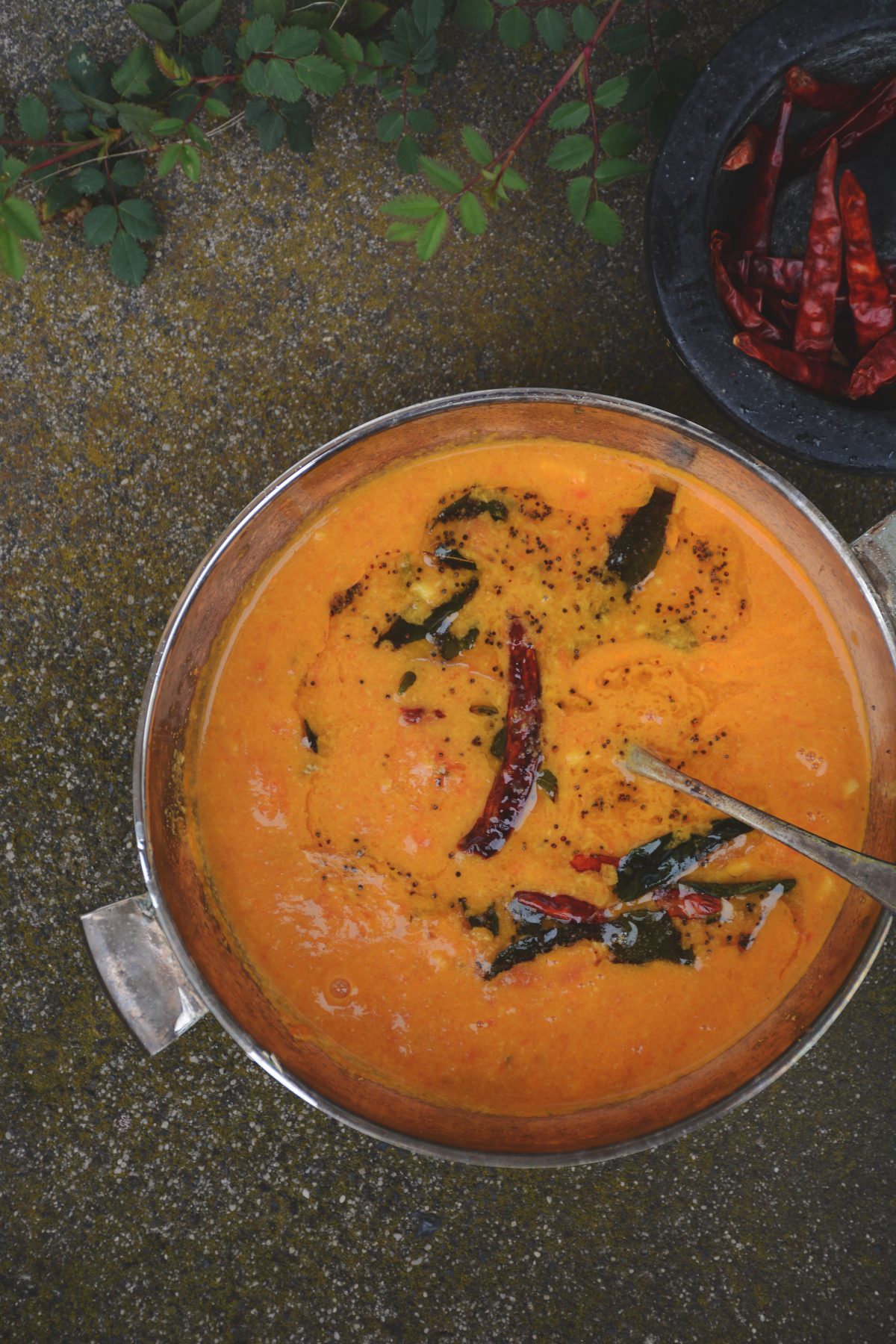 Ingredients:
1. Ripe, red tomatoes – 6, diced
2. Green chilli – 2, whole (add more or less depending on heat preference)
3. Curry leaves – 2 sprigs
4. Turmeric powder – ½ tsp
5. Coconut – ½ cup, freshly grated
6. Cumin seeds – ½ tsp
7. Garlic – 2 cloves
8. Salt – to season
9. Sugar – ¼ tsp
10. Mustard seeds – ½ tsp
11. Coconut oil – 3 tbsp
12. Dry red chilli – 2
Method:
1. In a pressure cooker, add the tomatoes, green chilli, one sprig of curry leaves and turmeric powder and cook for 2 whistles with ½ cup water. Or you could use a deep bottom pan, add the above and cook till the tomatoes turn mushy.
2. Blend grated coconut, cumin seeds and garlic cloves into a fine paste.
3. Once the tomatoes are cooked, scoop out the tomato bits and blend; this helps the curry to have a smoother consistency. You can skip this step if you like the tomato bits in your curry.
4. Return to pan, add the coconut paste, sugar and bring to boil. Season with salt and cook on medium heat for 5-6 minutes or till the curry has thickened.
5. Make a tempering or tadka using coconut oil, mustard seeds, curry leaves and dry red chilli.
6. Pour this over the curry and serve hot with steamed white rice.