While I was on holiday in India this year, I purchased a couple of cookbooks to add to my collection. And one of the books I bought was 'Dastarkhwan – e – Awadh' by Sangeeta Bhatnagar and R.K.Saxena.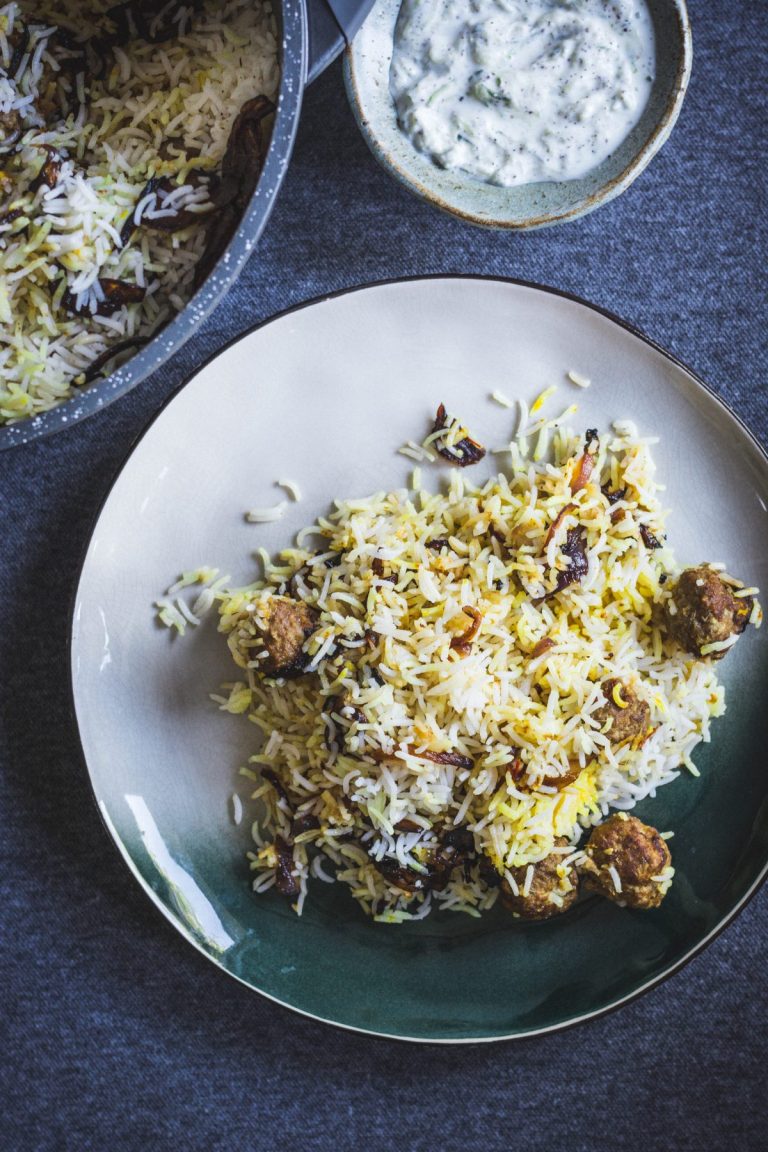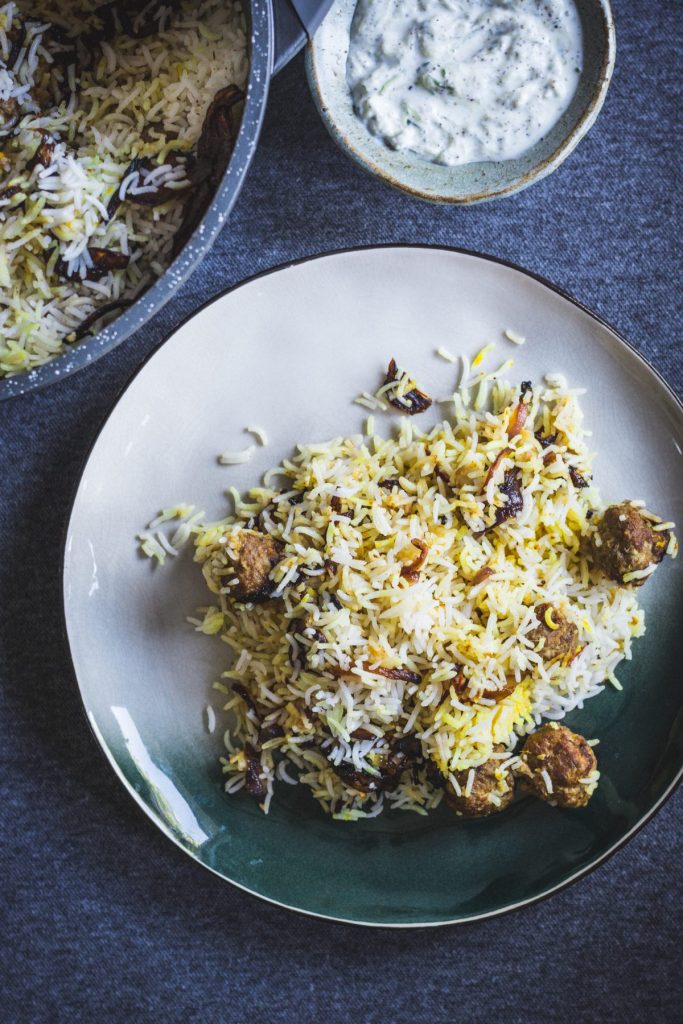 A simple cookbook that celebrates the royal kitchens of Awadh with recipes dating back to that golden era!

Awadhi cuisine is not just famous, but one that's held in reverence. The food that came out of the Awadh kitchens had a royal elegance, a restraint yet so rich and inviting that made it synonymous with royalty. Of course it was made for the Nawabs but today, this cuisine is still held in such high esteem for the techniques, attention to ingredients and complexity of flavours.

The authors, Dr Sangeeta Bhatnagar and R.K.Saxena are both culinary historians and their passion to document the food of Awadh resulted in this book. Drafted after much research and speaking to a wide range of people including Nawabs, Chefs and yesteryear royal cooks, this book is a true tribute to the cuisine of Awadh.

It's a simple book in appearance; reminds me of the old textbooks we used to have in India. No highly styled photographs of the food, but plenty of visuals depicting the people from the region, ingredients, street food, and also dishes presented in a natural manner.

There's a brief introduction to the royal era of Awadh (the present day Lucknow), a historical perspective to the cuisine followed by explanation of terms that's commonly used in Awadh cuisine. For eg: there are unique techniques employed in cooking Awadh food and these are explained along with reference to ingredients and other procedures that are a must know to understand the cooking style and culinary culture.

Clearly this is a cookbook that I would be cooking a lot from, but for that first recipe, I zeroed in on this lipsmacking Kofta Pulao.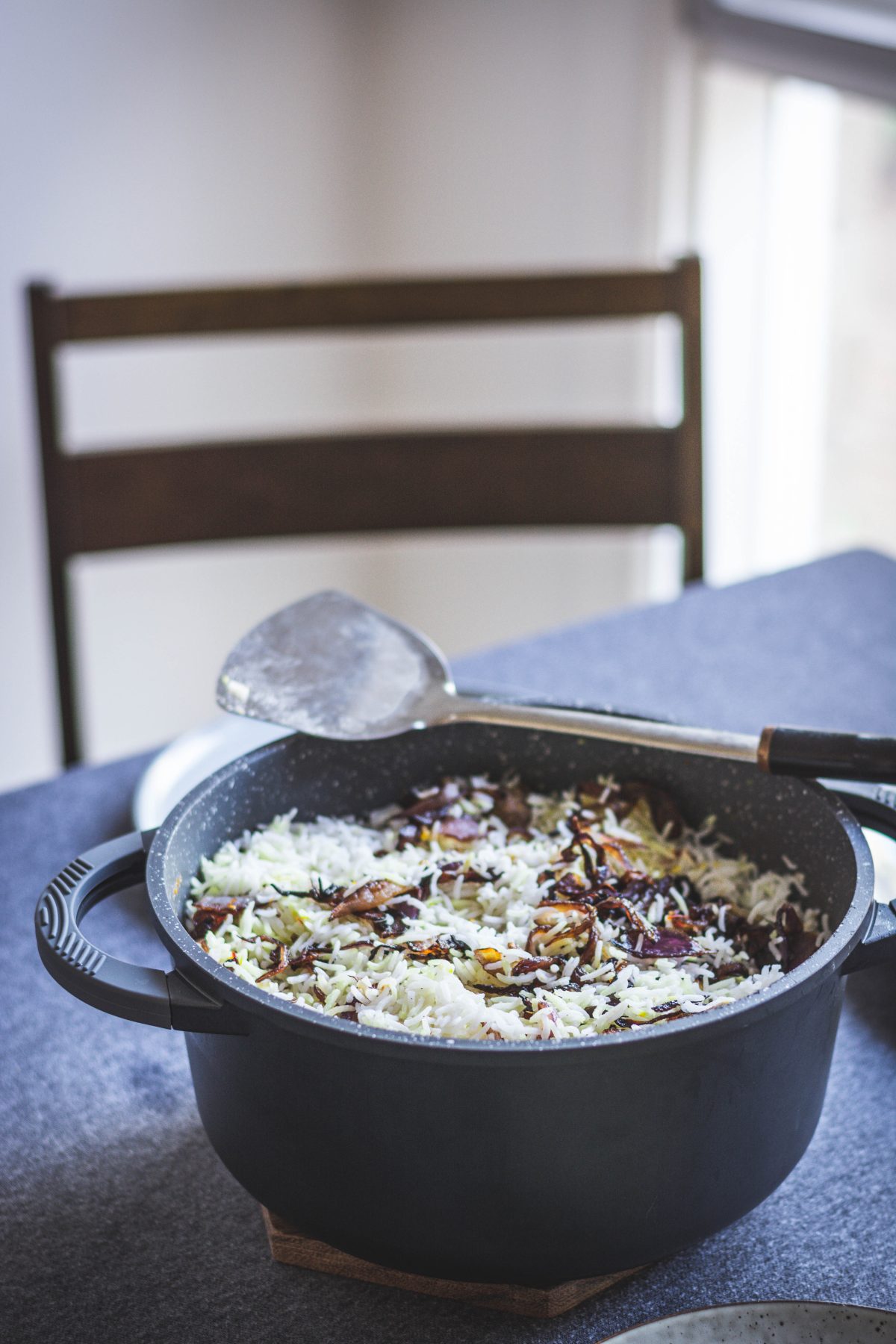 Pulao is often considered to be second grade in comparison to a biryani. There's a general attitude that a pulao is made when one does not want to indulge in the extravagance of a biryani. But that is so wrong and an Awadhi style pulao is a prime example of that.

Making a good pulao requires as much skill as a biryani. And it all starts with cooking the rice perfectly. Always made using aged long grain rice which must be fragrant, aromatic and each grain separate from the other yet cooked perfectly. The flavours are much less complex in a pulao when compared to a biryani; there are far fewer spices and aromatics and it is a subtle play of those few spices that make a pulao so delicious.

Just as the name suggests, this is a kofta pulao, literally translated as meatballs and rice.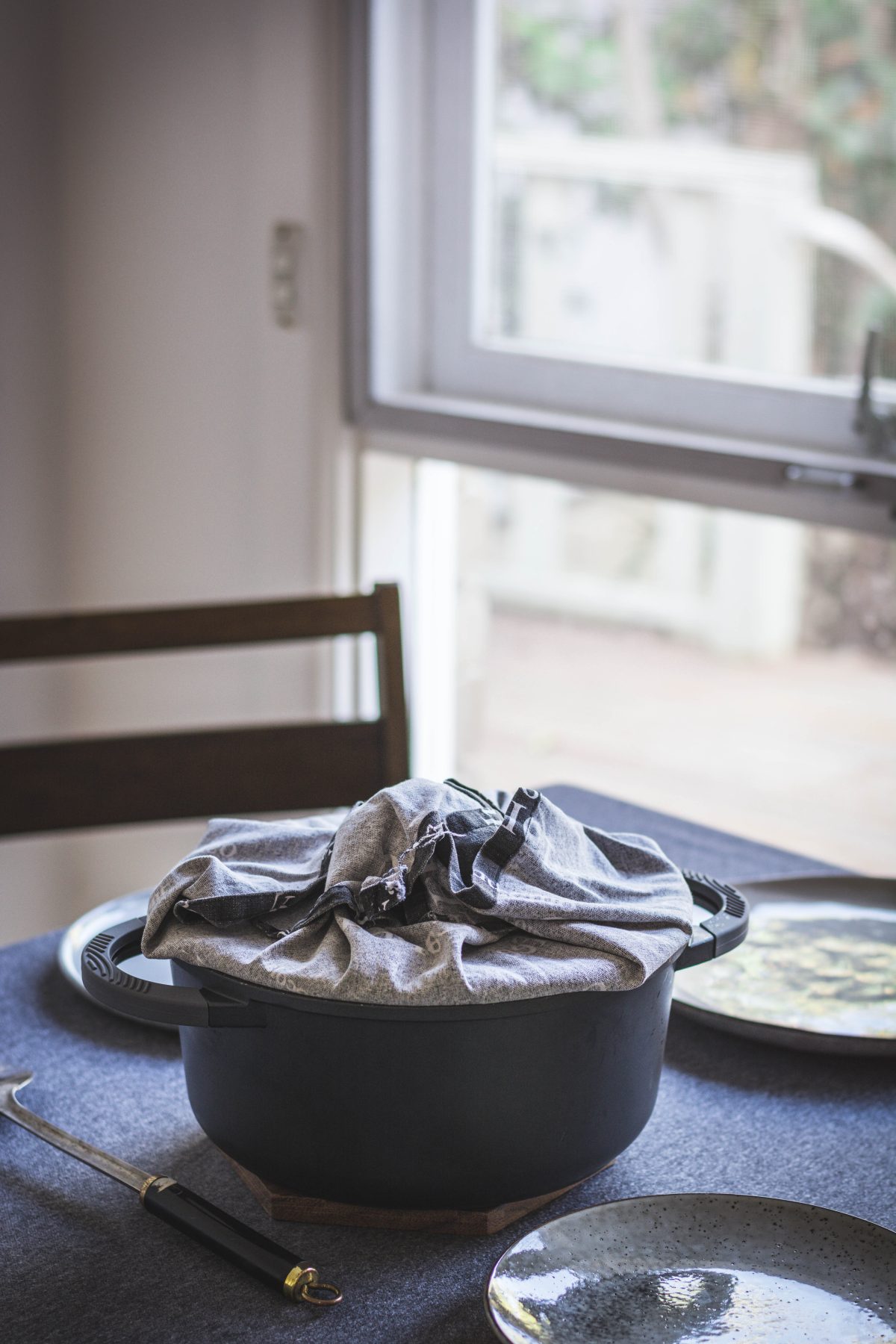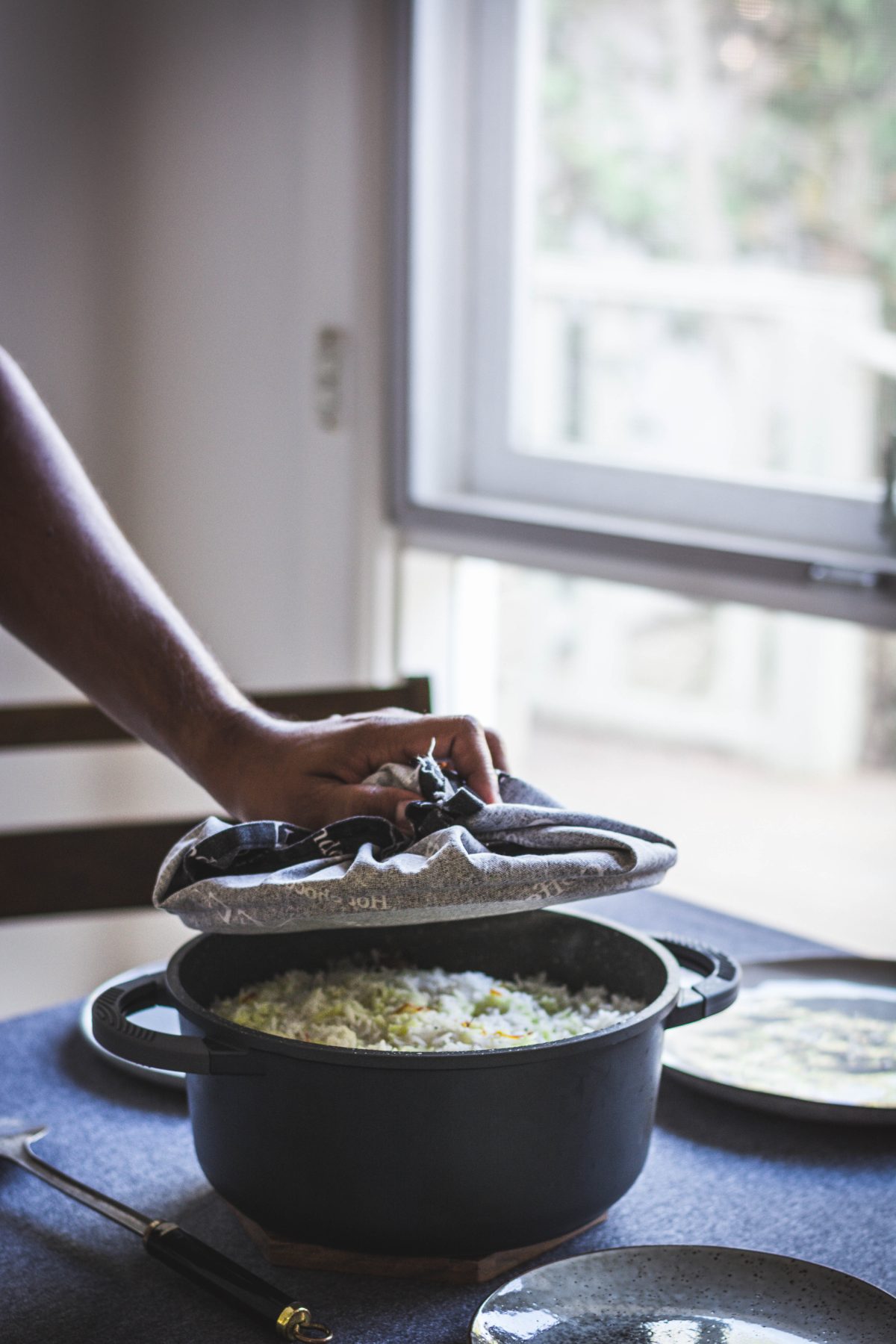 The meatballs are shaped small in this recipe, unlike the larger ones that we are accustomed to eating in pasta or as snacks. Though mutton would be used traditionally, I have used lamb mince to make koftas, which is flavoured with just cinnamon and cardamom.

Another important ingredient is ghee or clarified butter. In traditional Awadhi cooking, tempered ghee is used but here I have just used plain ghee to keep things simple. Oil can be used but would hardly provide any flavour, and ghee is way healthier anyway.

The rice and koftas are cooked separately and then layered; the cooking process is then finished using the dum technique. For those who aren't aware, the dum technique is where all the ingredients are placed inside one pot and the edges sealed using dough. Slow charcoal heat is applied on top and also on bottom and the food is allowed to slow cook with minimal heat.

Now most of us would use a modern dum technique in our homes. You could either place all the ingredients in a casserole dish, seal using a foil and finish cooking at low heat in the oven. Or you could follow my technique – since I don't like to use foil, I place a tea towel over the pot and then place the lid on top so that it's really tight and no steam escapes. The pot is then placed on a flat tawa or directly on heat but at its lowest setting. Ensure that the edges of the towel hanging out is scrunched up; we don't want to start a fire!!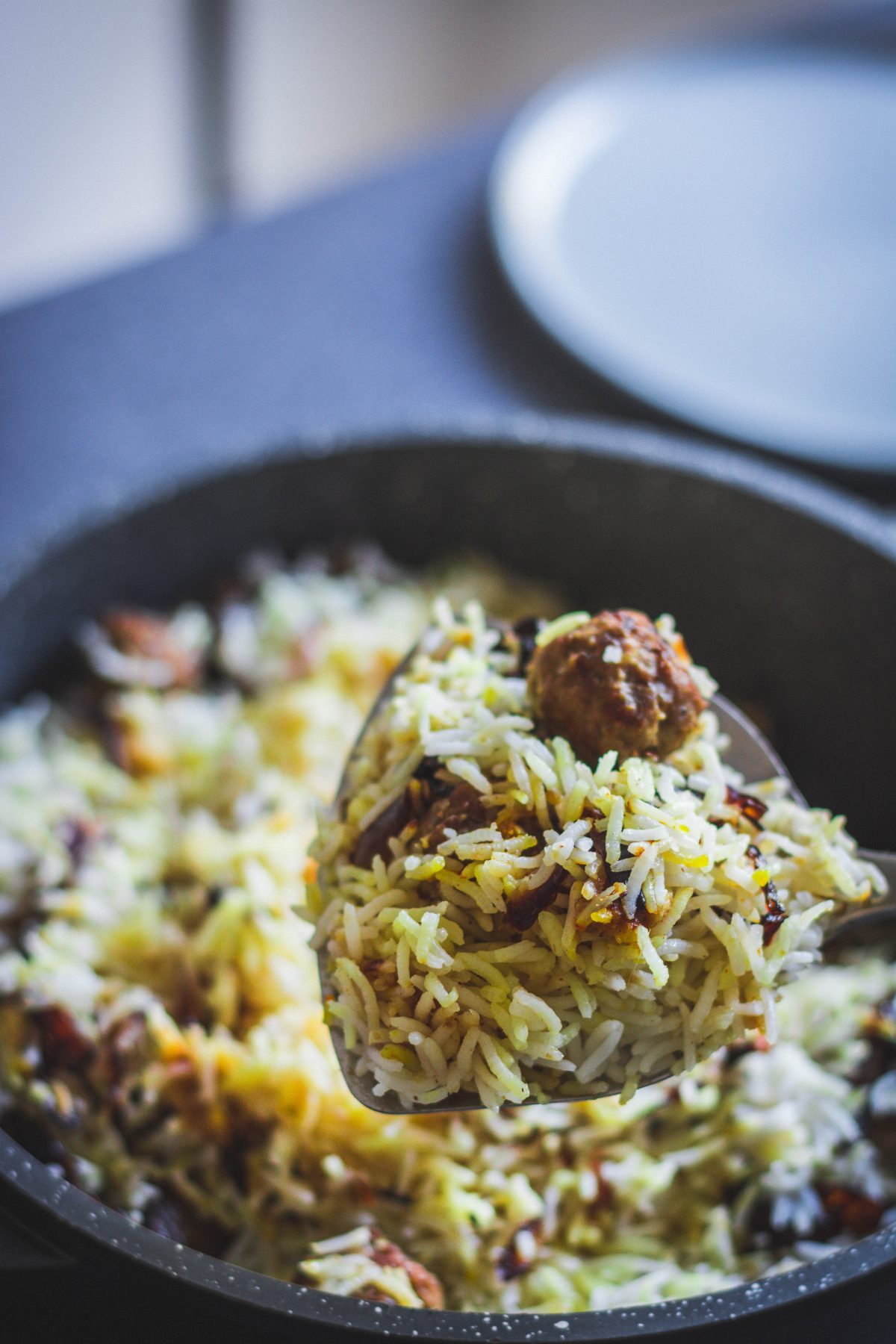 So let's get onto the recipe for this delicious Kofta Pulao;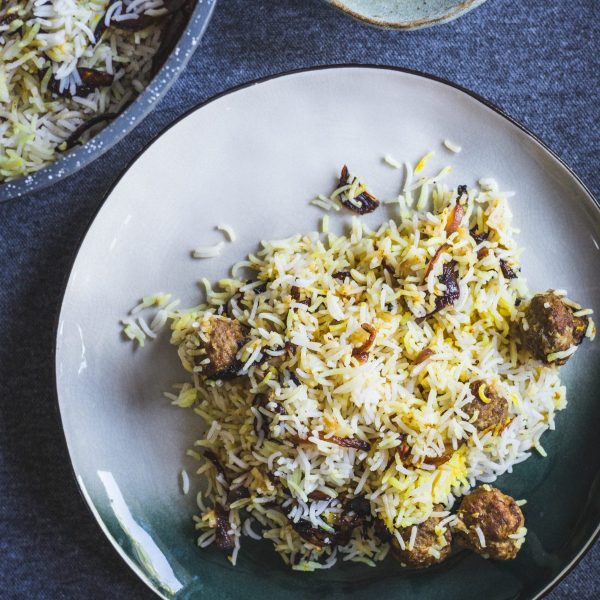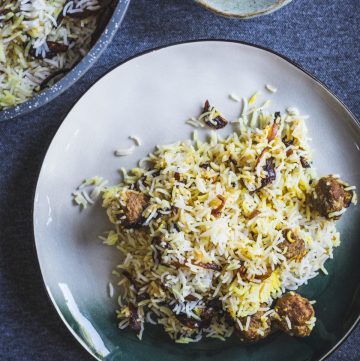 Print Recipe
Lucknowi style Kofta Pulao
Ingredients
500

gms aged basmati

long grained rice; washed and soaked for atleast 1 hour

500

gms lamb

or mutton mince

1

inch

ginger

5

medium garlic cloves

1

tsp

red chilli powder

10

gms roasted gram flour

1

inch

cinnamon stick

3

whole green cardamom

Salt

to season

Ghee

clarified butter

5

medium red onions

1 ½

tbsp

rose water

1

pinch

saffron

250

ml

milk
Instructions
Grind the cinnamon and cardamom to a fine powder.

Grind the garlic and ginger to a paste (add a few drops of water if necessary)

Also grind 2 onions to a coarse paste and keep aside.

Finely slice the remaining 3 onions; fry in ghee till golden brown, drain and keep aside.

Into the mince, add half of the cinnamon-cardamom powder, roasted gram flour, 1 tbsp ghee and salt to season. Knead well to ensure that all the ingredients are mixed well and the mince has a fine consistency.

Take small portions of the mince and roll into small balls (slightly larger than marbles). You will roughly get about 30 -35 balls. Heat ghee in a pan and fry the meatballs; keep aside. (Take care not to overcook or the meatballs taste dry)

To cook the rice, heat 1 ½ litres water. Season with salt and add the remaining cardamom-cinnamon powder. Add the washed rice and parboil; drain and keep aside.

In the same pan that the onions were fried (add more ghee only if necessary), add the onion and ginger garlic paste. Sauté on medium heat till the rawness disappears. Then add chilli powder and sauté till the ghee separates.

Add the fried meatballs to this and add 1 cup (250 ml) water. Cook till most of the water has disappeared. Taste and season with salt if necessary.

Meanwhile soak saffron in warm milk.

To finally assemble the dish, place a large deep bottom vessel on low heat and add half of the cooked rice. Then layer with the cooked koftas/meatballs, add half of the rose water and saffron milk. Then add the remaining rice followed by the remaining rose water and saffron milk.

Seal the edges (read description above for dum techniques) of the vessel and cook covered on low heat for about 20 minutes.

Open just before serving and garnish with fried onions.

Serve with a raita